Being proactive with preventative maintenance is an absolute must for any journey. Therefore, don't delay – take action and make sure to inspect your brakes regularly! This will give you the confidence that no matter where life leads you, your automobile is ready for the ride. With proper care and consideration, fantastic adventures await – why not start now?
West Jordan Automotive Brake Repair
Don't risk your car's brakes! If you're hearing any strange sounds while braking, or feel like the brake system is not performing as it should be, look no further than Master AutoTech West Jordan. At Master AutoTech we understand that Utah drivers deserve only the best service and so our technicians meticulously inspect each part of a vehicle's braking system with precision before releasing them back on the road. Make sure to come here today for maximum safety – experience how amazing your ride can truly be again!
Don't pass up this chance to benefit from the unique services of Master AutoTech in West Jordan! Our certified technicians have extensive knowledge and proficiency when it comes to all automobile provisions, such as servicing disc brakes and drum brakes. Make use of our complimentary evaluation now for a remarkable value on any car repairs you may need!
Utah Drivers – Stay Safe with Reliable Brakes
At our shop, we prioritize your safety – trust only professionally-trained technicians to get you back on the road safely and quickly. Our brake repair services are fast yet reliable; if it's a minor noise or an extensive update request, rest assured that they can deliver both speed and accuracy. Schedule an appointment today so you can regain confidence in your vehicle's brakes! With experienced hands taking care of this important job, soon enough you'll be driving with peace of mind.
Visit us at our West Jordan Location.
Types of Brakes
At Master AutoTech West Jordan, we guarantee the highest quality of brake repair and replacement services. Our technicians are devoted to providing you with reliable results that will exceed your expectations. With many years of experience among our staff members, be certain that your car is always in good hands! We take pride in delivering excellent service and meticulous attention to detail when it comes to maintenance for each vehicle under our care.
Drum Brakes
Enjoy the assurance of unparalleled stopping power and trustworthiness with a sturdy drum brake system. The wheel cylinder guarantees that your car will completely halt when required, giving extraordinary, dependable strength every time you hit the brakes.
Disc Brakes
Disc brakes use advanced technology and cutting-edge engineering to provide superior stopping power, with their calipers working in tandem with brake pads and rotors for seamless control.
ABS
To ensure a secure journey each time you drive, make sure your vehicle is equipped with an Anti-lock Braking System (ABS). With ABS tires won't skid or lock up when brakes are applied and you can rest easy knowing that you're safe.
ESC
Enjoy an extra layer of protection on the roads with ESC – Electronic Stability Control. This revolutionary system is designed to activate automatically if ever it detects that you are struggling to maintain control, managing both your steering and braking efficiently in order to swiftly restore stability.
Checking Your Brakes for Problems
Check Visually: To keep your brakes in superior condition, routinely inspect your brake discs and pads. By doing this you can determine when it is time for replacements or repairs so that they are always performing optimally.
Test Pedal Pressure: If you think your brake pedal isn't as responsive as it should be, don't hesitate to get a professional evaluation without delay.
Listen to Strange Sounds: Pay close attention to your car's brakes; if they make a loud, high-pitched noise, it could be an indication of a problem.
Feel How Your Vehicle Drives: If you feel the steering wheel shaking or if your car is slipping while driving, double-check your brakes for extra safety.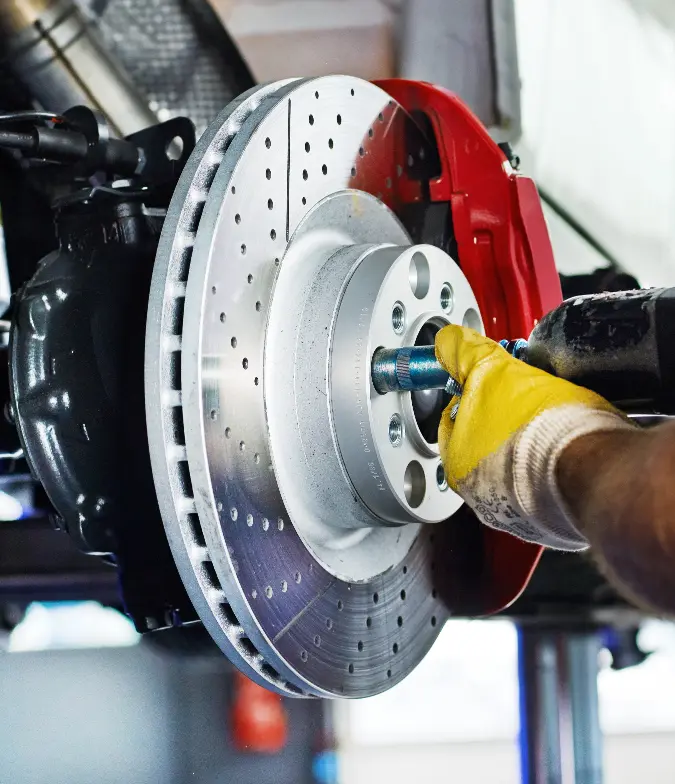 Come to Master AutoTech West Jordan
Take charge of your security and well-being on Utah's roads with Master AutoTech West Jordan! Our team is devoted to ensuring that your car is in pristine condition, from brake replacements to checkups. We'll make sure you drive away assuredly knowing there are strong brakes beneath you! With our top-notch services, we promise a safe journey ahead.
1595 W 7800 S West Jordan, UT 84088