Taking the time to invest in preventative maintenance is essential for any journey. Don't procrastinate – take charge and inspect your brakes frequently! Doing this will give you peace of mind that no matter where life takes you, your car is ready to go. With proper care, incredible adventures await – don't delay any more; seize the moment now!
South Salt Lake Automotive Brake Repair
Don't chance it with your car's brakes! If you're hearing a strange noise while pressing down or are concerned about the brake system's performance, Master AutoTech South Salt Lake is here to help. We understand that Utah drivers deserve the best auto maintenance possible and make sure of this by meticulously inspecting every component in a vehicle's braking mechanism before releasing them back on the road. Keep safety first – come ensure peace of mind for yourself today and witness how admirable your ride can truly be!
Don't miss out on this extraordinary chance to get Master AutoTech's one-of-a-kind deal in South Salt Lake! Our certified professionals possess an extensive understanding of each and every auto necessity, from servicing disc brakes and drum brakes. Take advantage of the complimentary evaluation we are offering now and you will reap the reward of an unbeatable cost on all car services!
Dependable Braking Power for Utah Drivers
Don't take any chances with your safety – trust our highly-trained and experienced technicians to get you back on the road in no time. We specialize in fast yet reliable brake repair; whether it's a squeak or an update request, we can do it all quickly and accurately. Make an appointment now so that before you know it, you'll be driving around confidently knowing that your brakes are fixed right! Put this important job into expert hands today!
Visit us at our South Salt Lake Location.
Types of Brakes
At Master AutoTech South Salt Lake, we guarantee the highest quality work when it comes to brake repair and replacement. Our technicians are dedicated to offering top-notch services for your vehicle with results you can trust. With our team of experts on the job, rest assured that your car is always receiving meticulous attention and care.
Drum Brakes
A robust drum brake system provides power and reliability. The wheel cylinder assists in delivering superior stopping force, helping your car or truck come to a complete stop when needed.
Disc Brakes
Disc brakes are the latest braking technology available, boasting extraordinary accuracy and power due to their calipers that interact with brake pads as well as rotors.
ABS
Ensure your vehicle is equipped with an Anti-lock Braking System (ABS) for maximum protection. This will prevent tire skidding or locking and give you the assurance that you are safe on the road.
ESC
Drive more safely and securely with ESC – Electronic Stability Control. This system is created to kick in immediately when it ascertains that your vehicle has lost control, expertly managing steering and braking processes to quickly bring back stability.
Checking Your Brakes for Problems
Check Visually: Ensure your brakes are always running optimally by routinely assessing your brake discs and pads. By doing so, you can quickly detect when it's time to make needed repairs or replacements for them to keep functioning effectively.
Test Pedal Pressure: If you believe your brake pedal isn't as firm as it ought to be, do not wait; get a professional inspection right away.
Listen to Strange Sounds: Pay close attention to your car's brakes; if they make a loud, high-pitched noise, it could be an indication that something is wrong.
Feel How Your Vehicle Drives: To prevent any further harm, inspect your brakes if you experience a shuddering steering wheel or feel yourself sliding on the road.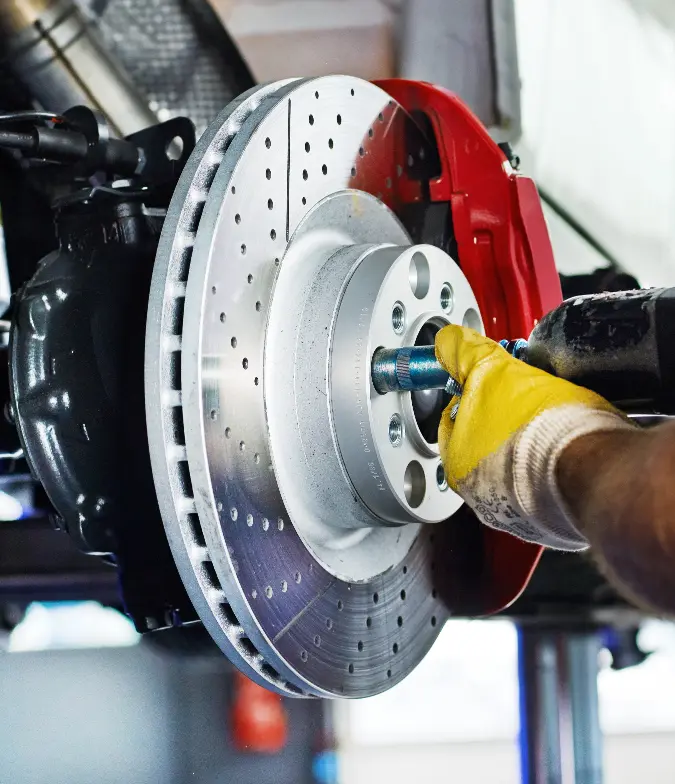 Come to Master AutoTech South Salt Lake
Take command of your safety on the highways and byways of Utah with Master AutoTech South Salt Lake! Our team guarantees that your car is in top-notch condition, including brake replacements and checkups. Don't worry—we'll manage it all for you, so you can drive away peacefully knowing there are dependable brakes behind you!
3865 S State St. Salt Lake City, UT 84115