Expert Transmission Services in Orem, Utah
Our team at Master AutoTech Orem South specializes in providing transmission services to ensure your vehicle's transmission system is functioning well. We understand the significance of a properly working transmission system and our highly skilled technicians are committed to delivering comprehensive services that enhance performance and reliability.
We offer a variety of services including fixing transmission problems, providing repairs, and doing regular maintenance.
Transmission Services Offered
Transmission Repairs
Our technicians are highly skilled in quickly diagnosing and troubleshooting transmission problems. We use advanced diagnostic tools to accurately identify any issues.
We provide comprehensive transmission repair services, which includes repairing or replacing damaged components, conducting fluid flushes, and replacing filters.
Transmission Rebuilds
Our team specializes in professional transmission rebuilds for transmissions that need extensive restoration. We carefully inspect and disassemble the transmission to identify any damaged or worn-out parts.
We rebuild the transmission with high-quality components back to its original specifications. Our process involves careful reassembly and extensive testing for optimal performance.
Transmission Maintenance
To last longer, it's important to perform regular maintenance. At Master AutoTech Orem South, we provide various maintenance services for transmissions, such as inspections, adjustments, and fluid and filter replacements.
We have technicians who will make sure that your shifting is smooth and they will also fix any possible issues before they become bigger and more expensive to repair in the future.
Signs of Transmission Problems
If you can recognize the signs of transmission problems, you can quickly address the issues and prevent additional damage.
The following are some typical signs that indicate a transmission that is having difficulty functioning properly:
Rough or unsmooth shifting
Delayed engagement
Slipping gears
Fluid leaks
Strange noises
If you notice any of these signs related to transmission problems, it is very important to get professional help. Our skilled technicians at Master AutoTech Orem South can efficiently identify and address these problems.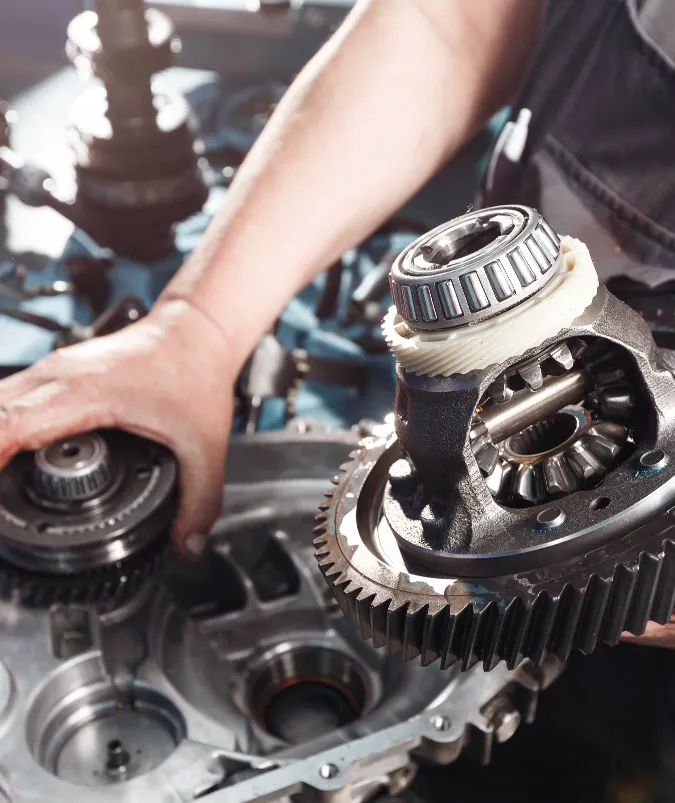 Benefits of Choosing Master AutoTech
Expertise and Experience
Our technicians have a high level of knowledge and skill working with different transmission systems and technologies. They consistently educate themselves on the latest developments in the automotive industry to provide exceptional service.
Quality Parts and Materials
At Master AutoTech Orem South, we make sure to use OEM or equivalent parts when repairing or rebuilding transmissions. In addition, we obtain top-quality fluids and filters specifically made for transmissions to ensure they perform well and last long.
State-of-the-Art Facilities and Equipment
State-of-the-Art Facilities and Equipment
Hear from Our Customers
To understand the quality of our service and the benefits we provide, please take a moment to read the testimonials from our customers.
"The Most Honest All Service car Repair Company around! I bought tires (4) and an oil change cheaper than the competition that had a "Sale". Highly recommend Chet is Great!! So is Mark!!"
"Great service! It was a quick diagnosis,  the service was completed within the timeframe he said, charged the amount quoted and reset the dashboard. Happy customer."
"I'm really pleased with how I was treated here and the timely manner that the work was performed. Got new exhaust from the cat back and the sound and performance that you get from their in house Master Muffler is just a well if not better than the standard run of the mill Flowmaster/Magnaflow without the heavy price tag."

Visit Master AutoTech Orem South Today!
Master AutoTech Orem South is the reliable choice for transmission services. Our top-notch auto repair services are available for cars located in Utah and Idaho. We use quality parts, have state-of-the-art facilities, and our expertise ensures your transmission is functioning optimally.
Get in touch with us today to experience transmission solutions that are dependable and highly effective, surpassing your expectations.
184 State St, Orem, UT 84058