Auto AC Repair in Orem, Utah
Master AutoTech Orem South offers specialized services for repairing car air conditioning systems. Our aim is to enhance your driving experience by improving the performance of your AC system. We know that a reliable AC system is crucial, and thus our services are designed to suit your specific needs.
The technicians in Utah will accurately diagnose and fix any issues with your car's air conditioning system.
AC Repair Services Offered
Diagnosis and Troubleshooting
We will inspect your car's air conditioning system using specialized tools. Once the inspection is done, we will inform you of any problems we find and give you a detailed explanation of the necessary repairs.
AC Component Repairs and Replacements
We specialize in repairing the compressor, condenser, and evaporator components of your AC unit. After the repair, you can be assured that your unit will work correctly and its functionality will be enhanced.
AC System Recharge and Refrigerant Services
Our skilled technicians can inspect your air conditioner for leaks or insufficient refrigerant levels to improve its cooling performance. They will fix any leaks and add refrigerant if needed to ensure that your AC operates efficiently.
Electrical System Repairs
If you have electrical issues with your AC such as problems with wiring, relays, or switches, our technicians are available to provide assistance. This can improve the efficiency and performance of your AC.
Signs of AC Problems
To maintain a properly functioning AC system, it is essential to be aware of the typical signs of malfunction. Keep an eye out for warning indicators like:
Inadequate cooling
Weak airflow
Strange odors
Unusual noises
Excessive condensation
In case you observe any of these indicators, feel free to take your vehicle to Master AutoTech located in Orem South where they will diagnose and repair the issue.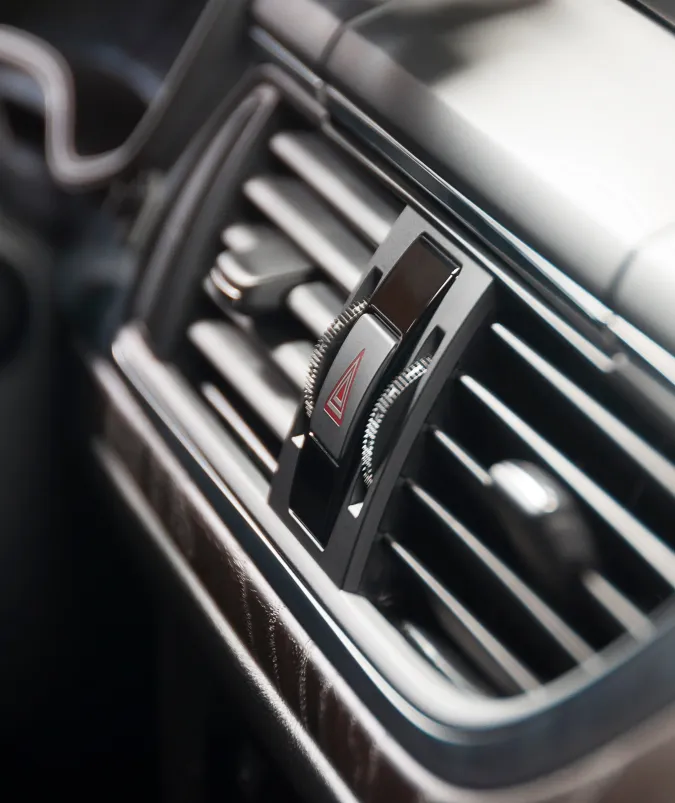 Components of an Auto AC Unit
Compressor
The car's cooling system operates by compressing the refrigerant, circulating it in a gaseous state using the serpentine belt.
Condenser
To refrigerate something, follow these steps: compress the refrigerant from gas to liquid state. Then, transfer it to a condenser similar to a radiator, where it will lose heat and cool down the refrigerant.
Receiver-Drier
Filtering the liquid refrigerant at a high pressure is crucial to avoid any damage to the air conditioning system caused by water or debris.
Thermal Expansion Valve OR Orifice Tube
Car air conditioners use thermal expansion valves or orifice tubes to lower the pressure and convert the refrigerant to a gas.
Evaporator
The evaporator, which is situated at the rear of the dashboard, cools the air using liquid refrigerant. It operates like a radiator, expanding the refrigerant and moving it through fins, pipes, and a fan to deliver cool air into the passenger area.
Why Bring Your Vehicle's AC to Master AutoTech Orem South?
Expert Technicians
Thanks to our specialists' up-to-date knowledge of the latest AC models and technologies, our AC repair services are highly effective and dependable.
Quality Parts and Materials
Our AC repair and replacement services are of top-quality as we utilize premium components such as OEM parts or similar alternatives, along with high-quality refrigerants and accessories. Our main objective is to enhance the performance, lifespan, and overall quality of your AC system.
Modern Diagnostic Tools and Equipment
Our skilled technicians can accurately detect and resolve any AC issues by utilizing state-of-the-art tools and equipment, ensuring top-quality services.
Hear from Our Customers
To understand the quality of our service and the benefits we provide, please take a moment to read the testimonials from our customers.
"The Most Honest All Service car Repair Company around! I bought tires (4) and an oil change cheaper than the competition that had a "Sale". Highly recommend Chet is Great!! So is Mark!!"
"Great service! It was a quick diagnosis,  the service was completed within the timeframe he said, charged the amount quoted and reset the dashboard. Happy customer."
"I'm really pleased with how I was treated here and the timely manner that the work was performed. Got new exhaust from the cat back and the sound and performance that you get from their in house Master Muffler is just a well if not better than the standard run of the mill Flowmaster/Magnaflow without the heavy price tag."

Stop by Master AutoTech Orem South Today
Master AutoTech Orem South in Utah offers AC system repair services for cars. Our technicians are skilled and will use high-quality components and advanced tools to enhance the efficiency of your car's AC system.
Consider reaching out to Master AutoTech for high-quality auto AC repair services that can enhance your driving experience and increase the comfort of your trips.
184 State St, Orem, UT 84058