Taking proactive steps towards preventative maintenance is vital before you start any journey. Act quickly to inspect your brakes and make sure they are in perfect condition! This will guarantee that wherever life decides to take you, your vehicle is prepared for the voyage. With proper care and caution, extraordinary adventures await – so why not begin right now?
South Ogden Automotive Brake Repair
Are you searching for superior brake system maintenance? Don't compromise the safety of your car – visit Master AutoTech South Ogden. Our knowledgeable technicians appreciate that Utah drivers deserve uncompromising quality and so each component in a vehicle's braking system is evaluated precisely before being returned to the road. At Master AutoTech, maximum security, and delight are guaranteed! Have faith in us today to enjoy an extraordinary driving experience – don't miss out on this opportunity!
Seize this exceptional chance to access the prowess of Master AutoTech in South Ogden! Our squad of master technicians are unparalleled experts when it comes to any type of vehicle maintenance and repairs, like disc brakes or drum brakes. Obtain our complimentary analysis now for premier quality services at an unbeatable value on any automotive tasks you need done!
Utah Drivers Need Dependable Brakes
When it comes to your vehicle's brakes, don't take any chances. At our shop, we prioritize safety and make sure that only the most experienced technicians perform brake repairs quickly and reliably so you can get back out on the road with complete confidence as soon as possible. Whether you're hearing a strange noise or something more serious is happening, rest assured that they won't sacrifice accuracy for speed in their work. Schedule an appointment without delay – let us restore trust in your car's brakes!
Visit us at our South Ogden Location.
Types of Brakes
At Master AutoTech South Ogden, our aim is to surpass customer expectations when it comes to brake repair and replacement services. Our technicians are renowned for their skill and commitment, boasting years of experience between them – you can have the assurance that your car will always be handled safely! We take pride in delivering superior service right down to the details; each vehicle we care for receives meticulous cleaning from dedicated professionals who guarantee top-notch results.
Drum Brakes
Thanks to the wheel cylinder of a drum brake system, your vehicle will come safely to a full stop whenever you press down on the brakes. This reliable component ensures that wherever you're headed, your journey is secure and dependable.
Disc Brakes
Disc brakes are designed with the latest technology and engineering to provide superior braking power. Their calipers work seamlessly in tandem with brake pads, rotors, and other components for increased control over your vehicle's speed at all times.
ABS
Always equip your vehicle with an Anti-lock Braking System (ABS) before you embark on any journey; it helps ensure that tires won't skid or lock up when the brakes are applied, improving your safety on the road.
ESC
When faced with the possibility of spinning out, Electronic Stability Control uses a combination of steering and braking to quickly return your car to safety.
Checking Your Brakes for Problems
Check Visually: To help your brakes perform at the highest level, it's critical to regularly inspect them for signs of wear and tear. This way, you'll be able to identify when it is time to repair or replace the discs and pads so your vehicle remains in top condition.
Test Pedal Pressure: Don't delay in getting a professional assessment if your brake pedal isn't responding as expected – it's better to be safe than sorry!
Listen to Strange Sounds: Be sure to keep a close ear on your car's brakes; if they make a loud, high-pitched noise, it could point to an underlying problem.
Feel How Your Vehicle Drives: To stay safe on the road, be sure to verify your brakes if you encounter any shaking or slipping of the steering wheel during driving.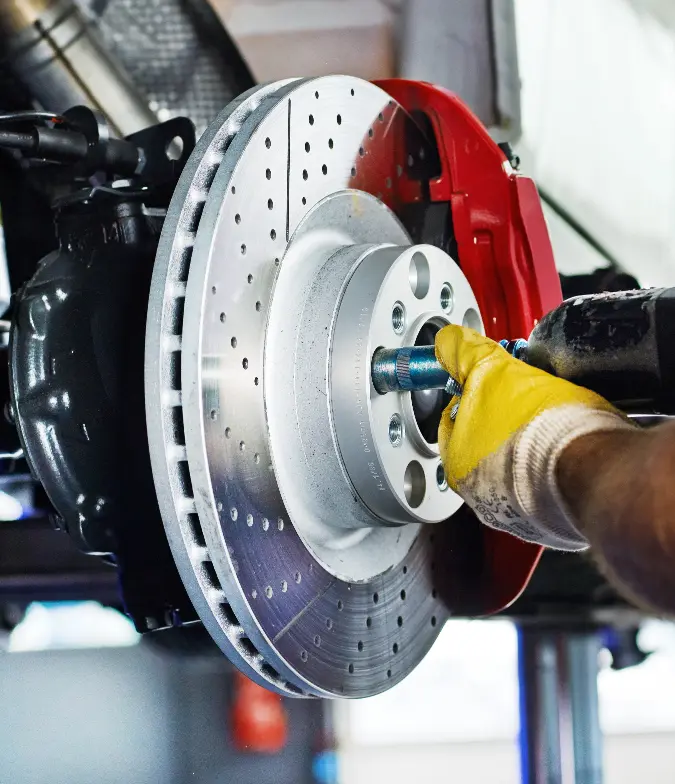 Come to Master AutoTech South Ogden
Make the roads of Utah yours again with Master AutoTech South Ogden! Our professionals are passionate about providing your vehicle exceptional care, from brakes to inspections. With us maintaining the safety and reliability of your car, you'll have total assurance that each time you get behind the wheel it will stay strong throughout every trip ahead. Let us ensure a worry-free journey by offering only top-notch services for all vehicles.
1025 Chambers St. Ogden, UT 84403