Auto AC Repair in South Ogden, Utah
Master AutoTech South Ogden specializes in repairing car air conditioning systems to improve their performance and enhance your driving experience. We understand the importance of a reliable AC system, and our services are tailored to meet your needs.
The technicians in Utah will effectively identify and repair any problems with your car's air conditioning system in a precise manner.
AC Repair Services Offered
Diagnosis and Troubleshooting
Our team will use specialized tools to inspect the air conditioning system in your car. Upon completion of the inspection, we will notify you of any identified issues and provide you with a thorough explanation of the needed repairs.
AC Component Repairs and Replacements
Our specialty is fixing the compressor, condenser, and evaporator components of your AC unit. This will enhance the unit's functionality, and you can be confident that it will work correctly after the repairs.
AC System Recharge and Refrigerant Services
To enhance the cooling performance of your air conditioner, it is essential to have our skilled technicians inspect it for leaks or insufficient refrigerant levels. They will address any leaks and add refrigerant to ensure that your AC operates efficiently.
Electrical System Repairs
Our technicians are ready to assist you if your AC is experiencing electrical issues such as problems with wiring, relays or switches. This service can enhance the efficiency and performance of your AC.
Signs of AC Problems
It is important to know the common signs of a malfunctioning AC system to keep it working properly. Pay attention to warning signals such as:
Inadequate cooling
Weak airflow
Strange odors
Unusual noises
Excessive condensation
If you notice any of these signs, you can bring your vehicle to Master AutoTech in South Ogden. They will identify and fix the problem.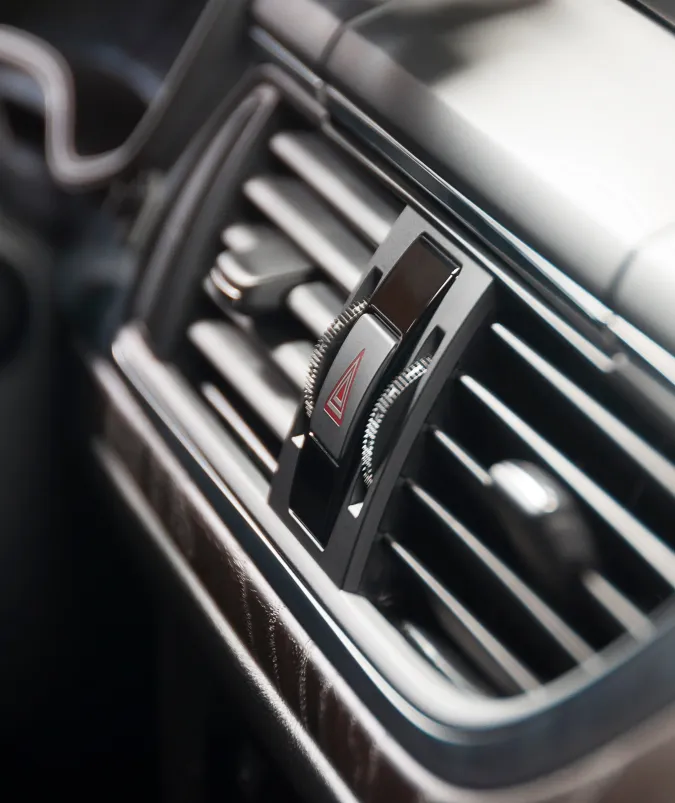 Components of an Auto AC Unit
Compressor
The car's cooling system works by compressing the refrigerant and circulating it through the use of the serpentine belt while it's in a gaseous state.
Condenser
If you want to refrigerate something, here's what you should do: First, compress the refrigerant from its gaseous state. Then, move it to a condenser where it will become a liquid, like a radiator. This will remove heat from the high-pressure refrigerant and decrease the temperature.
Receiver-Drier
It is important to filter the liquid refrigerant at high pressure in order to prevent water or debris from damaging the air conditioning system.
Thermal Expansion Valve OR Orifice Tube
Car air conditioners utilize thermal expansion valves or orifice tubes to reduce pressure and transform the refrigerant into a gas.
Evaporator
The evaporator, located at the back of the dashboard, is responsible for cooling the air. It functions similarly to a radiator by expanding the liquid refrigerant and circulating it through fins, pipes, and a fan. The result is cooled air released into the passenger compartment.
Why Bring Your Vehicle's AC to Master AutoTech South Ogden?
Expert Technicians
Our AC repair services are highly effective and dependable thanks to our specialists' knowledge of the latest AC models and technologies.
Quality Parts and Materials
We ensure top-quality AC repair and replacement services by using only the best components, including OEM parts or similar alternatives, along with premium refrigerants and accessories. Our aim is to improve the performance, lifespan, and overall quality of your AC system.
Modern Diagnostic Tools and Equipment
We provide top-quality AC services by utilizing state-of-the-art tools and equipment, which enables our skilled technicians to accurately detect and resolve any issues.
Hear from Our Customers
Please read the testimonials from our customers to understand the quality of our service and the benefits we offer.
"Everyone there was so nice, and professional!! Very honest, and very fair, they told me it only took them a couple of minutes to fix the issue with my car, so they didn't charge me. Thank you again!!"
"They were so great and helped out so much getting my car ready for passing emissions! Thank you guys so much!"
"Bryce was so quick with his helpfulness that I was shocked. I drove in without an appointment and he came out to help me immediately. Fixed my issue and was such a friendly manager!! Highly recommend!!"
"I brought my car in for an air conditioning recharge. They got to it faster than I thought they would. They called to let me know they found a leak and it was a great price for the repair. Friendly and professional. Sometimes there is a cute dog hanging out (sleeping) in the office. Highly recommend"
"Very friendly staff, loved the greeter dog meeting us at the front door. Seemed very honest and professional. Even though they were very busy they got all my needed repairs done the same day and I'm very happy with it. Will definitely come back if I need anything else done to my car."

Stop by Master AutoTech South Ogden Today
If you need to repair your car's AC system, Master AutoTech South Ogden in Utah can help. Our skilled technicians will use top-notch components and advanced tools to improve the efficiency of your AC system.
If you need top-notch auto AC repair services, think about contacting Master AutoTech. It can help you have a better driving experience and make your trips more enjoyable.
1025 Chambers St, South Ogden, UT 84403