Expert Transmission Services in Sandy, Utah
Discover automotive excellence at Master AutoTech Sandy, the premier destination for top-notch transmission services in Utah! Our team of highly skilled technicians is dedicated to ensuring the flawless functionality of your vehicle's transmission system.
We understand the paramount importance of a properly functioning transmission. That's why we offer a comprehensive range of services designed to not only enhance performance but also ensure unmatched reliability. Prepare to delve into the magnificence of our offerings and trust us to keep your vehicle running seamlessly.
Transmission Services Offered
Transmission Repairs
Our team of expert technicians employs cutting-edge diagnostic tools to precisely identify and promptly resolve any transmission issues you may have. We provide a wide range of comprehensive repair services, including component repairs or replacements, fluid flushes, and filter replacements as necessary. You can trust our expertise, efficiency, and professionalism to handle all your transmission needs with exceptional care and precision.
Transmission Rebuilds
MasterTech Sandy is the go-to destination for top-notch transmission rebuilds in the area. Our team of highly skilled technicians excels in precise diagnostics and replacement of worn-out components, guaranteeing unmatched performance for your vehicle. Witness the extraordinary transformation that our exceptional parts and rigorous testing can bring, restoring your vehicle's performance to its peak. Rely on us for all your transmission rebuild requirements, where excellence and expertise meet.
Transmission Maintenance
To guarantee the long life of your transmission, regular and vital maintenance is absolutely necessary. At Master AutoTech Sandy, we offer a wide array of services aimed at preserving the optimal condition of your transmission. Our experienced technicians perform thorough inspections, precise adjustments, and meticulous fluid and filter replacements. With our expertise, you can anticipate smooth shifting and proactive resolution of potential problems, effectively avoiding expensive repairs down the line. Rely on us to keep your transmission in excellent shape.
Signs of Transmission Problems
In to safeguard against further damage and ensure a prompt response, it is crucial to recognize the prevalent indicators that may signal transmission issues.
Stay vigilant for these common signs of a problematic transmission:
Rough or unsmooth shifting
Delayed engagement
Slipping gears
Fluid leaks
Strange noises
If you notice any of these signs pointing to transmission problems, it is crucial to seek professional help immediately. At Master AutoTech Sandy, our team of skilled mechanics is well-equipped to diagnose and fix these issues with precision. Rest assured, your vehicle will be restored to its prime condition under our expert care.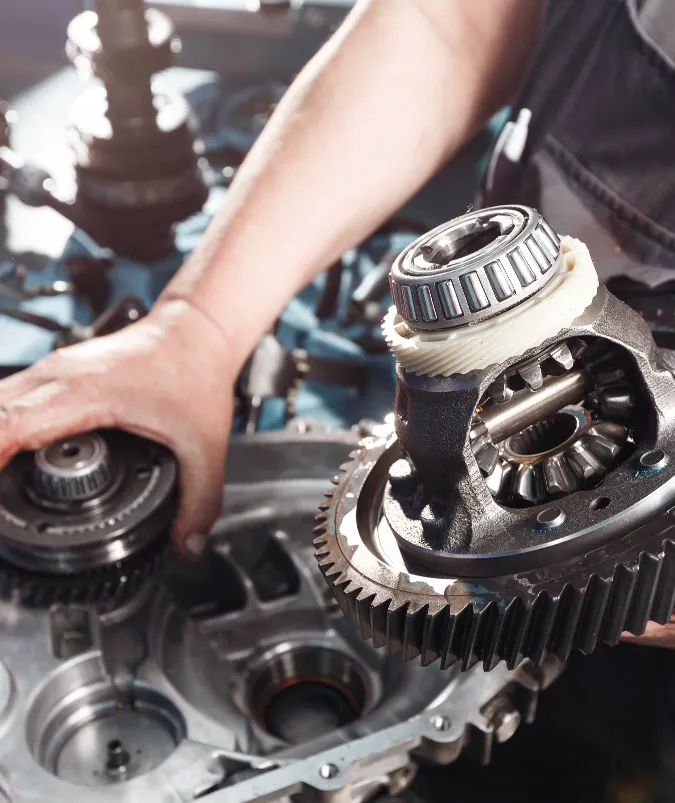 Benefits of Choosing Master AutoTech
Expertise and Experience
Our team consists of highly skilled technicians who possess extensive expertise in a wide range of transmission systems. They continuously stay updated on the latest advancements in the automotive industry, guaranteeing the delivery of exceptional service with unwavering professionalism. Rest assured, your vehicle is in capable hands.
Quality Parts and Materials
At our company, we prioritize the use of premium components for repairs and rebuilds. Moreover, we proactively source exceptional fluids and filters that are intricately crafted to optimize transmission performance and prolong its longevity. With an unwavering commitment to excellence, we ensure our customers receive unparalleled service and the utmost quality.
State-of-the-Art Facilities and Equipment
With our wide range of advanced diagnostic tools and state-of-the-art service bays, we provide reliable and efficient transmission services. Discover the benefits of cutting-edge technology through our exceptional service, where quality and excellence seamlessly combine.
Hear from Our Customers
Our satisfied customers speak to our commitment to excellence. See these testimonials from our valued clients:
"Happy to give them 5 stars! Honest Guys who aren't just after a buck – If it doesn't need fixing they won't suggest it! Integrity from any service provider is worth more than perceived savings of a buck or two!"
"Tom has top qualities in service and great knowledge of cars. He helped fix my car and no bs. Top notch service from whole staff."
"Took my truck in upgraded from 2 inch exhaust to 3 inch exhaust I supplied the parts they installed and ran emissions tests and passed with no problems great guys to work with very reasonable price !! Also taking in my Subaru for a new Cadillac converter same thing I supplied parts from dealership they installed it with no problems"
"Go here you'll be happy. As a dealer I am in here a few times a week. These guys are thorough and fair. They're more than mufflers I am taking a Subaru there for a clutch. And they stand behind their work. "
"The best Muffler place in Utah! They are honest and very helpful. They'll check your vehicle first and will tell you exactly what it needs before you spend a lot of money on some other part that you don't need. Thank you Shawn M. Mileham. You Rock! Thanks for being helpful and  honest."

Visit Master AutoTech Sandy Today!
When it comes to reliable transmission services, look no further than Master AutoTech Sandy. Our dedicated team takes immense pride in delivering exceptional auto repair solutions tailored to the unique needs of Sandy, Utah, and its surrounding areas. With an unwavering commitment to excellence, cutting-edge facilities, and unparalleled expertise, we guarantee transmission performance that exceeds expectations.
Contact us today to experience the unparalleled capabilities of our dependable and remarkably efficient transmission solutions.
9235 S 700 ESandy, UT 84070