Auto AC Repair in Riverton, Utah
Master AutoTech Riverton offers car air conditioning repair services to maintain the optimal performance of your vehicle's AC system. Having a properly functioning AC system is crucial for a comfortable driving experience, and our services are tailored to achieve that goal.
Our Utah-based AC system technicians are dedicated to quickly and precisely identifying and resolving any issues with your vehicle's air conditioning system.
AC Repair Services Offered
Diagnosis and Troubleshooting
Our team will use specialized equipment to conduct a detailed examination of your car's air conditioning system. Following this, we will inform you of any issues found and provide a clear explanation of the required repairs.
AC Component Repairs and Replacements
Our AC repair services can address problems with the compressor, condenser, and evaporator to enhance the performance and efficiency of your AC. You can trust us to ensure that your AC works correctly after the repairs are done.
AC System Recharge and Refrigerant Services
If your air conditioner is not cooling enough, it could be due to low levels of refrigerant or leaks that need to be addressed. Our skilled technicians can fix these issues by adding more refrigerant and mending any leaks. This will ensure that your AC unit runs properly.
Electrical System Repairs
Our technicians can assist you in resolving electrical issues affecting your AC, such as malfunctioning switches, relays, or wiring. This can enhance the overall performance and efficiency of your AC.
Signs of AC Problems
It is crucial to be able to recognize the common signs of malfunctions in your AC system to ensure its proper functioning. These signs may include:
Inadequate cooling
Weak airflow
Strange odors
Unusual noises
Excessive condensation
If you notice any of these signs, Master AutoTech Riverton can identify and fix problems with your car.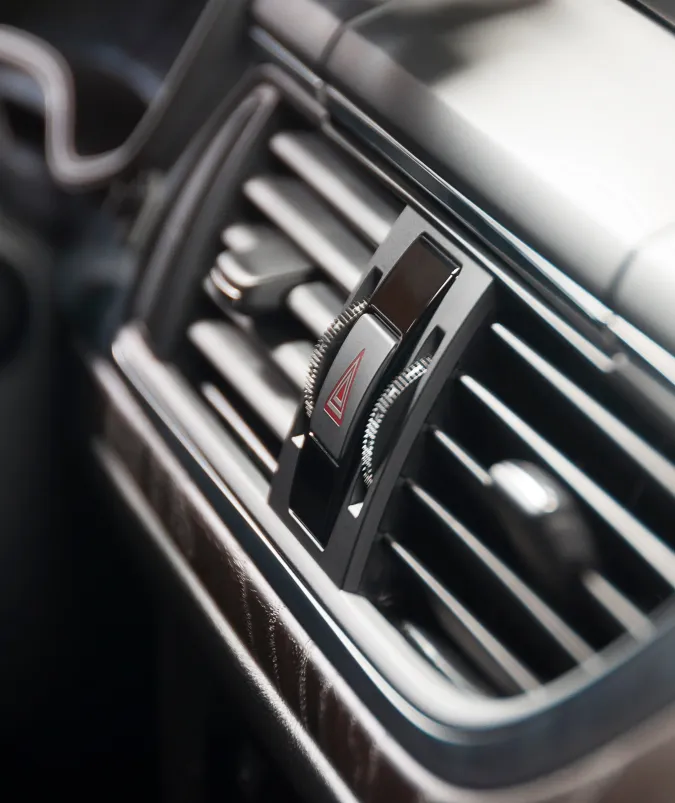 Components of an Auto AC Unit
Compressor
The cooling system relies on the compressor, which uses the serpentine belt to pressurize and circulate the refrigerant in its gaseous state.
Condenser
To refrigerate something, follow these steps: firstly, compress the refrigerant while it is in a gaseous state. Next, transfer the compressed refrigerant to the condenser where it will convert into a liquid (much like a radiator). This process removes heat from the high-pressure refrigerant, effectively lowering the temperature.
Receiver-Drier
Filtering the high-pressure liquid refrigerant is crucial to safeguard the air conditioning system against water or debris.
Thermal Expansion Valve OR Orifice Tube
To control the flow of refrigerant and convert it into gas, car air conditioning systems employ components such as thermal expansion valves and orifice tubes that reduce its pressure.
Evaporator
The back of the dashboard houses the evaporator, which utilizes the expansion of liquid refrigerant for air cooling. The evaporator has fins, pipes, and a fan for circulating the cooled air, much like a radiator, into the passenger compartment.
Why Bring Your Vehicle's AC to Master AutoTech Riverton?
Expert Technicians
Our AC repair services are reliable and highly effective because our specialists are knowledgeable about the latest AC models and technologies.
Quality Parts and Materials
We enhance the performance and lifespan of your AC system through our repair and replacement services that use top-quality components like OEM parts or their equivalents. Additionally, we incorporate high-grade refrigerants and accessories to improve its overall quality.
Modern Diagnostic Tools and Equipment
We have experienced technicians with access to advanced diagnostic equipment and specialized tools to maintain and troubleshoot AC systems. This enables us to accurately identify and repair issues, ensuring that our service is of high quality.
Hear from Our Customers
To see the quality of our services and the value we offer, you can read the testimonials of our clients.
"Had them do our brakes. We've used them a handful of times and they've always been honest and a fair price. They have told us other things we need to fix but more than once have told us it's probably not worth the cost vs. the age of the vehicle, so we are aware and can decide. Got us in more quickly than another place could."
"Amazing experience.  Jay is very kind, quick, and knowledgeable about everything we needed.  Good price and he was able to do emissions after fixing me up!  Very speedy, quality service.  Props to all the guys that work there!"
"Fantastic shop. Quality of work is great, prices are good, and the employees are kind and courteous. They fixed the A/C in my wife's car, and did an alignment for us. They also gave me advice on a not so great DIY repair. I can't say enough good things about these guys."
"Fast service. Up front about problems and probable solutions. Did not over promise, nor did they under deliver. I've been driving on repairs from them for over a year now with zero problems. Highly recommend."

Stop by Master AutoTech Riverton Today
If you need trustworthy car AC system repairs, you can count on Master AutoTech Riverton in Utah. Our skilled technicians use top-notch parts and advanced equipment to guarantee the best possible performance for your AC system.
You may want to contact Master AutoTech for top-notch auto AC repair services that can help improve your driving experience and increase your comfort while driving.
2284 W 12600 S, Riverton, UT 84065