Auto AC Repair in Provo, Utah
At Master AutoTech Provo, we provide car air conditioning repair services to keep your vehicle's AC system running smoothly. A well-functioning AC system is essential for a comfortable and enjoyable drive, and our services are specifically designed to ensure that.
Our AC system technicians, who are located in Utah, are committed to promptly and accurately detecting and fixing any problems with your car's air conditioning system.
AC Repair Services Offered
Diagnosis and Troubleshooting
We will thoroughly examine your car's air conditioning system using specialized equipment. Then, we will notify you of any problems and provide a clear explanation of the necessary repairs.
AC Component Repairs and Replacements
We provide AC repair services to fix issues with parts such as the compressor, condenser, and evaporator, which can improve the functionality and effectiveness of your AC. Rest assured that we guarantee proper operation of your AC once the repairs are complete.
AC System Recharge and Refrigerant Services
If your air conditioner is not cooling properly, it might be because of insufficient refrigerant levels or leaks that require fixing. Our proficient technicians can resolve this problem by refilling the refrigerant and repairing any leaks, ensuring that your AC system operates correctly.
Electrical System Repairs
If you're having trouble with your AC, our technicians can help fix any electrical problems like faulty switches, relays, or wiring. This will improve your AC's performance and efficiency.
Signs of AC Problems
To ensure your AC system is working properly, it's important to be able to identify common signs of malfunctions. These may include:
Inadequate cooling
Weak airflow
Strange odors
Unusual noises
Excessive condensation
Master AutoTech Provo can identify and fix problems with your car if you notice any of these signs.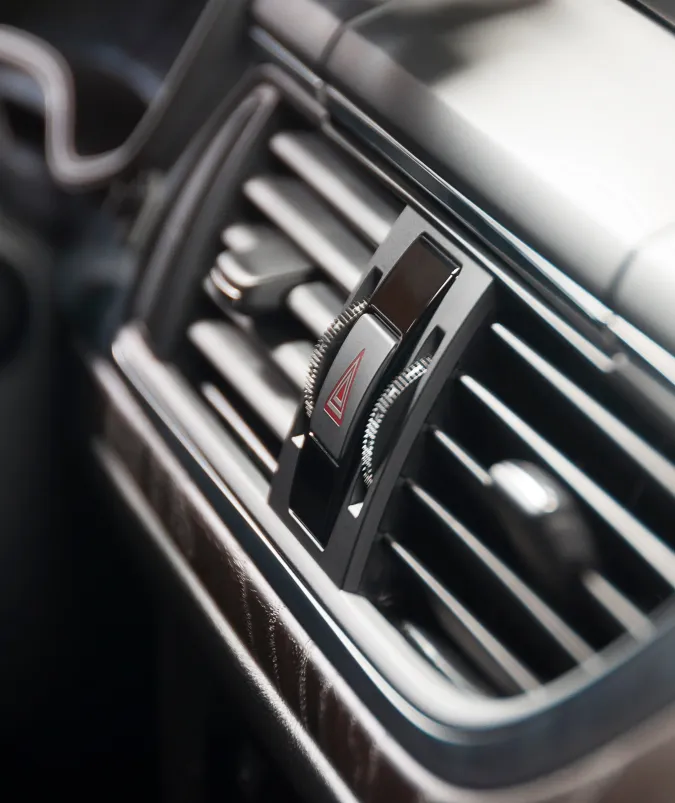 Components of an Auto AC Unit
Compressor
The compressor is responsible for the functioning of the cooling system, and it is operated using the serpentine belt. Its main purpose is to pressurize and move the refrigerant in its gaseous form.
Condenser
Here are the steps to refrigerate something: first, compress the refrigerant while it is in a gaseous state. Then, transfer the compressed refrigerant to the condenser where it will be converted into a liquid (similar to a radiator). As a result of this process, heat is removed from the high-pressure refrigerant, which lowers the temperature.
Receiver-Drier
It is important to carefully filter the high-pressure liquid refrigerant to protect the air conditioning system from water or debris.
Thermal Expansion Valve OR Orifice Tube
Car air conditioning systems use components like thermal expansion valves and orifice tubes to reduce the pressure of refrigerant, which converts it into gas and controls its flow.
Evaporator
The evaporator is located at the back of the dashboard and uses liquid refrigerant expansion to cool the air. Similar to a radiator, it has fins and pipes, and a fan is used to circulate the cooled air into the passenger area.
Why Bring Your Vehicle's AC to Master AutoTech Provo?
Expert Technicians
Our specialists possess extensive knowledge of the latest AC models and technologies which makes our AC repair services reliable and highly effective.
Quality Parts and Materials
Our AC system repair and replacement services utilize high-quality components such as OEM parts or their equivalents to improve performance and increase the lifespan of your system. We also add top-grade refrigerants and accessories to enhance its quality.
Modern Diagnostic Tools and Equipment
Our facilities have skilled technicians who use advanced diagnostic tools and specialized equipment for maintaining and troubleshooting AC systems. This helps us to identify issues accurately and carry out effective repairs, thereby ensuring that we provide high-quality service.
Hear from Our Customers
You can check out the testimonials provided by our clients to see the value we offer and the exceptional services we provide.
"My car broke down after a roadtrip. Took it into Master Muffler and they let me know I needed a new transmission and drive shaft. Vic was great to work with and handled talking to the warranty company to get the parts covered. I was able to get my vehicle back in 3 weeks and they did a great job! I will definitely be recommending them to me friends and family members!"
"Very pleased. I came as a first-time, walk-in customer for emissions testing and vehicle registration. There was no delay. The staff were professional and pleasant. The service was completed quickly. The waiting area and bathroom were as neat as a pin. Great job all around!"
"My brakes were making loud squeaking sounds. Some of it sounded like grinding. Decided to take it in to Master Muffler to get checked. EJ was friendly and helpful. They checked my brakes in 15-20 minutes and told me they still had a lot of life left, so they didn't need replacing. They also loosened my oil filter that was jammed on tight. I didn't have to pay a dime that day. Great mechanics that you can trust. Will be back for future services."
"The guys at Master Muffler & Brake were awesome. I came in because my brakes had been making terrible noise, and they brought me right in, diagnosed the problem, and had everything fixed within three hours. They were kind, transparent, and quick. I strongly recommend working with them!"
"Honest, fast, and a fair price. They fixed my muffler in 30 minutes! And the tech who waited on me was the nicest guy. So grateful! "

Stop by Master AutoTech Provo Today
For reliable car AC system repairs, rely on Master AutoTech Provo in Utah. Our expert technicians use high-quality parts and advanced equipment to ensure optimal performance for your AC system.
Consider contacting Master AutoTech for high-quality auto AC repair services to enhance your driving experience and add more comfort to it.
825 W Center St, Provo, UT 84601