Don't wait for an unexpected breakdown to happen before taking the time to ensure your car's brakes are in perfect condition. Make sure preventative maintenance is part of your regular routine, so you can be confident and relaxed on future trips. With proactive measures now, any possible issues with upcoming turns can easily be avoided! Maintaining accurate upkeep will give you peace of mind knowing that your vehicle is always prepared for whatever amazing adventure lies ahead!
Orem Automotive Brake Repair
Is your car's brake system not responding as it should? Are you hearing strange squeaks or grinds coming from them? Look no further – Master AutoTech Orem is here to help. Our dedication and commitment to ensuring the safety of Utah drivers means providing thorough, accurate inspections on each part of your braking system. Put yourself and your vehicle first – visit us at Master AutoTech Orem today!
Don't hesitate – head over to Master AutoTech in Orem and take advantage of their free assessment! Our talented technicians have expertise in servicing disc brakes, drum brakes, and anything else that your car might need. This is a great chance to finally get all of your automotive needs taken care of – don't miss out on this incredible offer!
Ensure Your Safety with Dependable Brakes
Don't wait any longer to repair your brakes – bring your car in now! Our professionals have the experience, knowledge, and speed that you need for reliable service. We're ready to tackle it all: from a squeaking sound or an upgrade request. Schedule today so you can be back on the road sooner than later; our expert technicians will make sure everything is taken care of quickly yet correctly. Make sure you prioritize your safety by booking with us right away!
Visit us at our Orem Location.
Types of Brakes
When you're searching for reliable brake repair and replacement, Master AutoTech Orem is here to provide incomparable service. Our dedicated technicians are committed to delivering dependable results every single time.
Drum Brakes
The formidable drum brake system is renowned for its dependability and strength, utilizing a wheel cylinder to provide astounding stopping power that ensures your vehicle stops on a dime.
Disc Brakes
Revolutionary disc brakes are a game-changer, with calipers that press the rotors and brake pads for maximum precision when stopping. This ingenious design not only offers unparalleled accuracy but also provides an impressive braking power superior to all other types of available brakes today.
ABS
When you equip your vehicle with Anti-lock Braking Systems (ABS), it'll be like having a dependable guardian of safety on hand when you have to make an emergency stop. ABS makes sure that the tires don't lock up or skid, so any time you take off, there's absolute trust and confidence giving power to every journey!
ESC
Drive confidently and securely with ESC—Electronic Stability Control. If you ever find yourself in a situation where your car unintentionally loses control, this cutting-edge technology will immediately act by accurately modifying the brakes and steering wheel—so no more worrying about skidding or swerving!
Checking Your Brakes for Problems
Check Visually: Examine your brake discs and pads regularly to guarantee that they are in top condition. This way, you can easily detect when maintenance or new parts are necessary and make sure that your brakes perform optimally at all times.
Test Pedal Pressure: If your brake pedal feels soft, it could mean a major problem with your brakes and should be checked out by an expert straight away.
Listen to Strange Sounds: The high-pitched squeal from your brakes should never be neglected; it's a warning that you ought to inspect them immediately.
Feel How Your Vehicle Drives: If you begin to sense tremors through the steering wheel or your car loses its grip, it's important that you inspect your brakes right away in order to avoid any further damage.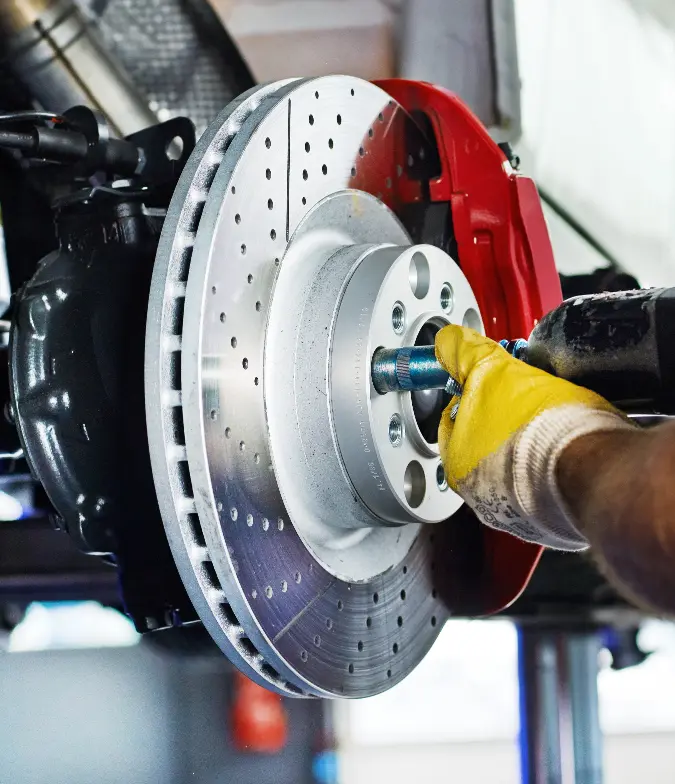 Come to Master AutoTech Orem
Securing your safety and comfort on Utah's roads requires cars with dependable brakes – which is why the specialists at Master AutoTech Orem are available to help. We're here for all of your vehicle needs, from brake replacements, inspections, and more – so you can drive away feeling secure!
1795 N State St. Orem, UT 84057