Auto AC Repair in Orem, Utah
Master AutoTech Orem offers car air conditioning repair services to ensure that your vehicle's AC system remains in excellent condition. An efficiently working AC system is crucial for a comfortable and refreshing driving experience, and our services are designed to guarantee just that.
Our Utah-based AC system technicians are dedicated to quickly and precisely identifying and repairing any issues with your vehicle's air conditioning system.
AC Repair Services Offered
Diagnosis and Troubleshooting
We will use specialized equipment to inspect your car's air conditioning system. Afterward, we will inform you of any issues found and explain clearly the necessary repairs.
AC Component Repairs and Replacements
Our AC repair service involves repairing broken parts like the compressor, condenser, and evaporator to restore smooth and efficient functioning. We guarantee that your AC will work properly after we're finished.
AC System Recharge and Refrigerant Services
If your air conditioning system is not providing adequate cooling, it may be due to low levels of refrigerant or leaks that need to be repaired. Our skilled technicians can solve this issue by replenishing the refrigerant and repairing any leaks so that your AC system functions properly.
Electrical System Repairs
Our technicians can assist with fixing electrical issues such as faulty switches, relays, or wiring that may be causing your AC to malfunction. This will help to increase the performance and efficiency of your AC.
Signs of AC Problems
Recognizing common indicators of AC system malfunctions is important for maintaining optimal system functioning. These indicators may include:
Inadequate cooling
Weak airflow
Strange odors
Unusual noises
Excessive condensation
If you observe any of these indications, Master AutoTech Orem can identify and fix problems with your car.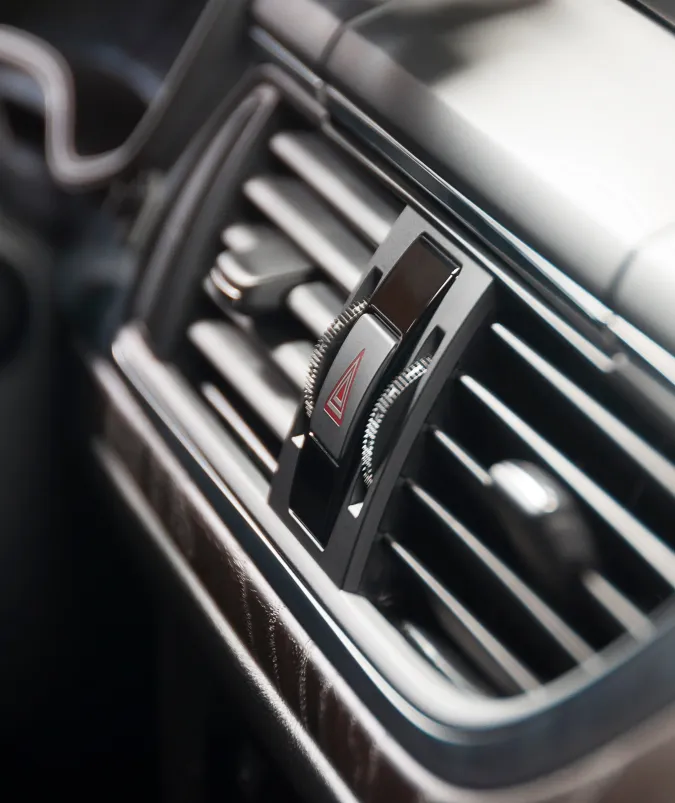 Components of an Auto AC Unit
Compressor
The cooling system relies on the compressor, which operates using the serpentine belt. Its function is to pressurize and move the refrigerant in its gaseous state.
Condenser
To refrigerate something, follow these steps: compress the refrigerant while it's in gas form, then send the compressed refrigerant to the condenser where it will become a liquid (like a radiator). This process removes heat from the high-pressure refrigerant which reduces high temperatures.
Receiver-Drier
In order to protect the air conditioning system from water or debris, it's important to filter the high-pressure liquid refrigerant carefully.
Thermal Expansion Valve OR Orifice Tube
To convert refrigerant into gas and regulate its flow, car air conditioning systems utilize components such as the thermal expansion valve and orifice tube that decrease its pressure.
Evaporator
The evaporator is a component situated at the back of the dashboard that uses liquid refrigerant expansion to cool the air. It has fins and pipes like a radiator, and a fan circulates the cooled air into the passenger area.
Why Bring Your Vehicle's AC to Master AutoTech Orem?
Expert Technicians
Our AC repair services are dependable and effective because our specialists have extensive knowledge of the latest AC models and technologies.
Quality Parts and Materials
We use top-notch components, including OEM parts or their equivalents, for repairing and replacing your AC system. This helps boost performance and ensure a longer lifespan for your system. We also include premium refrigerants and accessories to enhance its overall quality.
Modern Diagnostic Tools and Equipment
Our skilled technicians use advanced diagnostic tools and specialized equipment to maintain and troubleshoot AC systems in our facilities. This enables us to accurately identify any issues and perform effective repairs, thereby ensuring that we provide high-quality service.
Hear from Our Customers
You can see for yourself the value we offer and our exceptional services by checking out the testimonials provided by our clients.
"I took my van in last week with a couple of issues. This was the best experience I have had with them. They communicated very well. They were friendly and informative. They were easy to work with… Maybe one of the best experiences I have had with any mechanic."
"I've been taking all my vehicles here for the last 5 years or so. They always do an efficient job! You do not need to worry about dishonesty when it comes to these guys. After taking my car for oil changes elsewhere and getting screwed over I even take my car here for just oil changes. Thanks for the great work!"
"Now I've been to a lot of mechanics and I mean a LOT of them. Master muffler is EASILY the greatest shop I have ever been to. Incredible service. Honest people. Quick work."
"Master Muffler got me in when I thought my muffler needed to be replaced. When I arrived for my appointment they got my truck in within minutes, put it on the lift and the technician saw the problem.  It was a quick fix with a weld to put two pipes back together. I paid and was on my way in 20 minutes. I was so pleased that there was no upselling. My truck is quiet again, the cost was reasonable and I was treated so well. I will be back."
"This is a shop that values their craft and respects their clients. I worked with Chet and found him to be very personable and professional. The technicians are fast and thorough. They are reasonable with their billing and charge for a fair amount of labor. The waiting area is clean and comfortable. I was incredibly impressed. 100% will be my regular shop and I will be recommending this place to my friends."

Stop by Master AutoTech Orem Today
If you need trustworthy car AC system repair, trust Master AutoTech Orem. Our skilled technicians use top-notch parts and advanced equipment to guarantee the best possible performance for your AC system. Our repair services are offered to drivers in Utah.
If you need auto AC repair services, consider reaching out to Master AutoTech for exceptional services that can improve your driving experience and make it more comfortable.
1795 N State St, Orem, UT 84057