Auto AC Repair in Ogden, Utah
At Master AutoTech Ogden, we offer car air conditioning repair services to ensure that your vehicle's AC system stays in top shape. A properly functioning AC system is essential for a pleasant and rejuvenating driving experience, and our services are tailored to ensure just that.
Our Utah AC system technicians are committed to promptly and accurately detecting and fixing any problems with your vehicle's air conditioning system.
AC Repair Services Offered
Diagnosis and Troubleshooting
Our team will inspect your car's air conditioning system using specialized equipment. We will then inform you about any issues found and provide clear explanations of the necessary repairs.
AC Component Repairs and Replacements
We offer a repair service for your AC system that involves fixing broken parts such as the compressor, condenser, and evaporator. Our goal is to restore smooth and efficient functioning. We guarantee that your AC will work properly once we're finished.
AC System Recharge and Refrigerant Services
If your AC is not cooling properly, it could be due to low refrigerant levels or leaks that require repair. Our proficient technicians can fix this problem by refilling refrigerant and fixing the leaks to make sure that your AC system operates efficiently.
Electrical System Repairs
If your AC is not working properly, our technicians can help by fixing any electrical problems such as faulty switches, relays, or wiring. This will ensure that your AC runs smoothly and performs well.
Signs of AC Problems
It is crucial to recognize common indicators of AC system malfunction to ensure its optimal functioning. Such indications may comprise:
Inadequate cooling
Weak airflow
Strange odors
Unusual noises
Excessive condensation
If you notice any of these signs, Master AutoTech Ogden can diagnose and repair issues with your vehicle.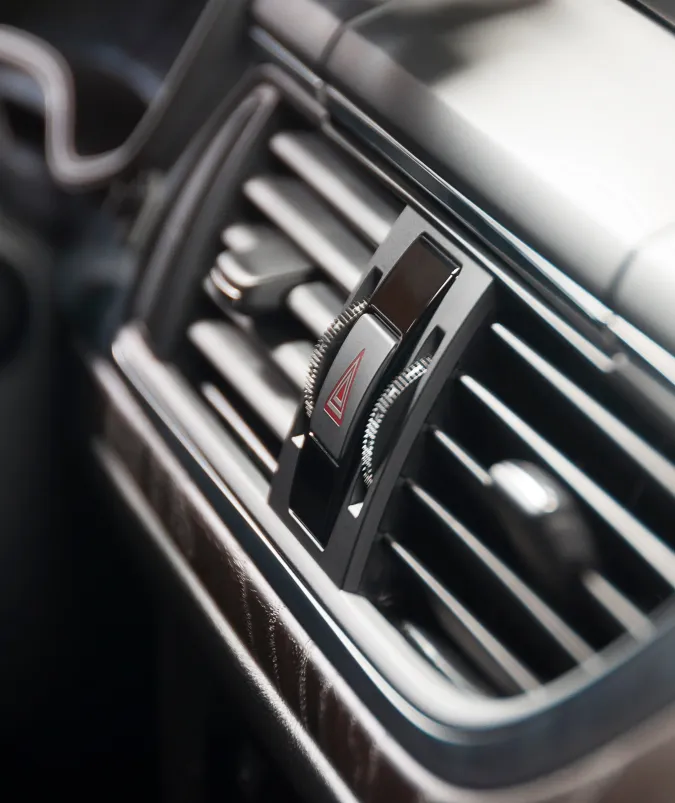 Components of an Auto AC Unit
Compressor
The compressor plays a vital role in the cooling system as it uses the serpentine belt to function. It pressurizes and moves the refrigerant while it's in its gaseous state.
Condenser
In order to refrigerate something, you must compress the refrigerant while it is in a gaseous state. Then, send the compressed refrigerant to the condenser where it will transform into a liquid, similar to a radiator. This helps remove heat from the high-pressure refrigerant that can cause high temperatures.
Receiver-Drier
Thoroughly filtering the high-pressure liquid refrigerant is crucial to protect the air conditioning system from water or debris.
Thermal Expansion Valve OR Orifice Tube
Car air conditioning systems use components like the orifice tube and thermal expansion valve to control the flow of refrigerant and reduce its pressure, thereby converting it into a gas.
Evaporator
The evaporator is a part located behind the dashboard which cools the air by expanding liquid refrigerant. Similar to a radiator, it has fins and pipes and a fan blows the cooled air into the passenger compartment.
Why Bring Your Vehicle's AC to Master AutoTech Ogden?
Expert Technicians
We offer reliable and efficient air conditioning repair services thanks to our specialists' in-depth knowledge of the latest AC models and technologies.
Quality Parts and Materials
Our AC system repairs and replacements are done using high-quality components such as OEM parts or their equivalents. This is done to improve performance and prolong the lifespan of your AC system. In addition, we also include high-grade refrigerants and accessories in order to enhance the quality of your AC system.
Modern Diagnostic Tools and Equipment
Our facilities rely on skilled technicians who use advanced diagnostic tools and specialized equipment to maintain and troubleshoot AC systems. This helps us to identify any issues accurately and carry out effective repairs, resulting in the provision of high-quality service.
Hear from Our Customers
Our clients have provided testimonials that demonstrate the value we offer and showcase our exceptional services. Take a look for yourself:
"Master muffler is the best place to go to get your car fix I took my Chevy impala in to get new brakes and some new mufflers. John who works there is a great guy he will help you. "
"My catalytic converter was stolen off my car and after several other places wouldn't return my call I called and spoke with John. He was so helpful! He overnighted the parts for my car and it was fixed less than 24 hours after I dropped it off. I would highly recommend them to anyone who needs their car serviced!"
"You couldn't find a better group of guys at Master Muffler in Ogden. Simply said, they take care of you. They do quality work and always strive to go the extra mile. "
"JJ provides great customer service. The team here has years of experience and will help you find the correct solution. Great prices with knowledge and explanation. Very easy process to fix my cars exhaust. I will absolutely take my car here for future needs again."
"The team at master muffler is amazing they are honest and upfront.  John and Scott have been my go to for years. I highly recommend this location for all your auto repair needs. From my personal to the fleet my company has. They take care of them all!"

Stop by Master AutoTech Ogden Today
For reliable car AC system repair, you can count on Master AutoTech Ogden. Our experienced technicians utilize high-quality parts and advanced equipment to ensure optimal performance of your AC system. Our services are available to drivers in Utah.
For exceptional auto AC repair services, contact Master AutoTech today. We strive to ensure your driving experience is both comfortable and enjoyable.
3590 Wall Ave, Ogden, UT 84401