Auto AC Repair in Murray, Utah
Master AutoTech Murray provides car air conditioning repair services to maintain your vehicle's AC system. A functional AC system is crucial for a comfortable and refreshing driving experience, and our services are designed to guarantee that.
The air conditioning system technicians in Utah are dedicated to quickly and precisely identifying and repairing any issues with your vehicle's air conditioning system.
AC Repair Services Offered
Diagnosis and Troubleshooting
We will use specialized equipment to examine your car's air conditioning system and identify any problems. Afterward, we will explain the required repairs in straightforward terms.
AC Component Repairs and Replacements
Our repair service includes fixing the broken parts of your AC system such as the compressor, condenser, and evaporator to restore its smooth and efficient functioning. We guarantee that your AC will work properly after we're done.
AC System Recharge and Refrigerant Services
If your air conditioning system is not cooling properly, it may be because the refrigerant levels are low or there are leaks that need to be repaired. Our skilled technicians can fix this issue by adding refrigerant and repairing any leaks, ensuring that your AC system runs smoothly.
Electrical System Repairs
Our technicians can fix electrical issues that may be causing problems with your AC such as faulty switches, relays, or wiring. This will help your AC run smoothly and resolve any performance issues caused by electrical problems.
Signs of AC Problems
To ensure that your AC system is functioning properly, it's important to be aware of common signs of malfunction. These signs may include:
Inadequate cooling
Weak airflow
Strange odors
Unusual noises
Excessive condensation
Master AutoTech Murray can diagnose and fix issues with your vehicle if you observe any of these signs.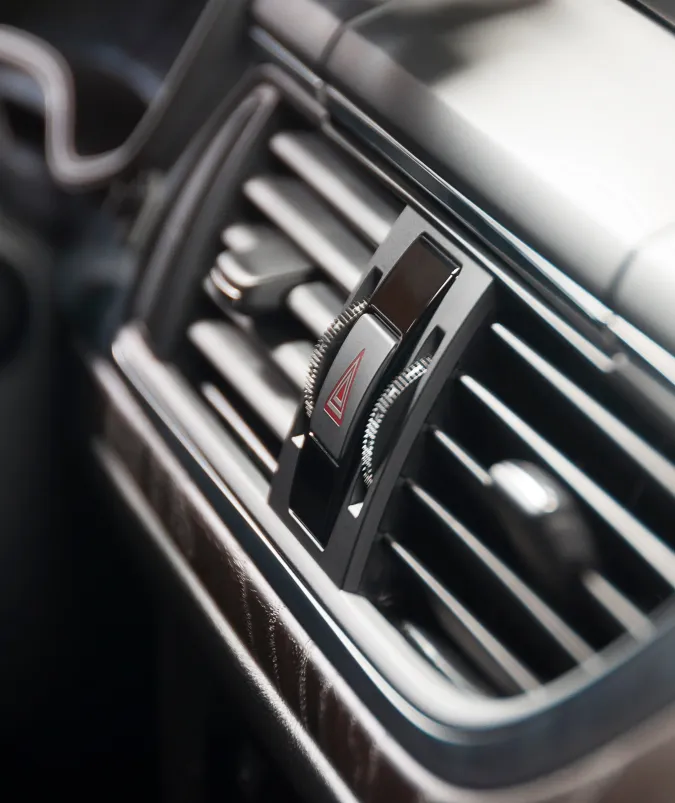 Components of an Auto AC Unit
Compressor
The compressor is an important part of the cooling system and is powered by the serpentine belt. Its job is to pressurize and circulate the refrigerant while it's in a gaseous state.
Condenser
To refrigerate something, you need to first compress the refrigerant while it is in a gas form. Afterward, you should direct the compressed refrigerant to the condenser where it will turn into a liquid resembling a radiator. This process helps to remove the heat from the high-pressure refrigerant, which can cause high temperatures.
Receiver-Drier
To protect the air conditioning system from water or debris, it's crucial to filter the high-pressure liquid refrigerant thoroughly.
Thermal Expansion Valve OR Orifice Tube
The flow of refrigerant in car air conditioning systems is controlled and pressure is reduced to convert it into a gas using components like the orifice tube and thermal expansion valve.
Evaporator
The evaporator is a component situated at the back of the dashboard and works by expanding liquid refrigerant to cool the air. It has fins and pipes similar to a radiator. Once the air is cooled, a fan blows it into the passenger compartment.
Why Bring Your Vehicle's AC to Master AutoTech Murray?
Expert Technicians
Our specialists have in-depth knowledge of the latest AC models and technologies, which enables us to deliver reliable and efficient air conditioning repair services.
Quality Parts and Materials
We use high-quality components like OEM parts or equivalents for our AC system repairs and replacements to improve performance and prolong its lifespan. We also enhance the quality of your AC system by including high-grade refrigerants and accessories.
Modern Diagnostic Tools and Equipment
In our facilities, we rely on our skilled technicians who utilize advanced diagnostic tools and specialized equipment to maintain and troubleshoot AC systems. This approach allows us to accurately identify any issues and perform effective repairs, resulting in high-quality service.
Hear from Our Customers
The customer testimonials showcase our exceptional services and demonstrate the value we offer to our clients. Please read them to see for yourself.
"These guys are amazing, I went in for a recharge on my A/C and several months later my valves were leaking again, without hesitation they fixed the valves again and fully recharged the system and didnt charge me anything. They are always honest and go above and beyond to make sure all my concerns are addressed. "
"These guys are great!  They have worked on a few different cars for me and have been really helpful.  They try to help you save money rather than squeezing all they can out of you and Steve in the office was great to work with."
"Steve and Devin were very pleasant to work with. The guys took good care of my truck fixing the breaks, rotors, and the AC is ice cold again. Best customer service you could ask for."
"These guys at this Master Muffler are absolutely the BEST!!!! I 100% trust their judgment when it comes to cars. I brought my last car to them and they took incredible care of it. I was looking to buy a used car and every car I brought them, they checked and told me if it was a good quality car or not. I highly recommend if you don't have a mechanic you trust, to come see Jacob!"
"My tire was going flat and so I stopped Master Muffler because it was close. The manager, Jacob, made it happen! He checked the air pressure and sprayed the tire. When he couldn't find a leak, he decided to remove the tire and submerge it – so he could rule that out. He found a big ol' nail in my tire! He fixed my tire and I was back on the road fast! Thank you Jacob!"

Stop by Master AutoTech Murray Today
If you need trustworthy AC system repair for your car, choose Master AutoTech Murray. Our skilled technicians use top-notch parts and advanced equipment to guarantee the best performance of your AC system. We serve drivers in Utah.
If you want auto AC repair services that go above and beyond, reach out to Master AutoTech today. Our goal is to make sure that your drives are both comfortable and enjoyable.
6790 State St, Murray, UT 84107