When it comes to your car's brakes, preventative maintenance is the key. Regular checkups are essential for avoiding potentially dangerous scenarios while out on the road and will grant you a sense of security during future trips. Don't let unpredicted catastrophes occur – keep your brake system in perfect condition at all times! By being proactive now, you can rest assured that your vehicle is prepared no matter what turns lie ahead.
Logan Automotive Brake Repair
Have you noticed your brake pedal feeling less responsive or unusual grinding and squeaking noises? If so, come to Master AutoTech Logan for an inspection. We take the safety of Utah drivers seriously – restoring every piece of their car's braking system with precision and dependability. Look after yourself as well as guarantee that your vehicle is in perfect condition by visiting us at Master AutoTech Logan today!
Don't hesitate any longer – come to our Master AutoTech shop in Logan and allow our knowledgeable technicians to give you a free assessment. We are equipped with the know-how needed to service disc brakes, drum brakes, and all your car needs year-round regardless of the season!
Prioritize Safety: Invest in Reliable Brakes
Don't delay any longer – bring your car in for brake repairs today! Our talented and experienced team provides swift, reliable service; no matter if you're hearing a squeak or just need an upgrade, we are equipped to take care of it. Stop procrastinating and book with us now – our knowledgeable staff will guarantee everything is handled promptly and properly so you can hit the road safely soon. Look out for yourself by scheduling an appointment immediately!
For all of your brake repair and replacement needs, rely on the certified technicians at Master AutoTech Logan! Our experience and dependability guarantee a durable result every time. With our assurance of top-notch services each visit, why would you select any other option? Experience excellence now – take full advantage of everything we have to offer today and keep coming back for more in the future!
Drum Brakes
With its reputation for resilience, the tried-and-true drum brake system depends on a wheel cylinder to firmly grasp onto the interior of a spinning drum, allowing your vehicle to quickly come to a stop.
Disc Brakes
Disc brakes are a revolutionary design, with calipers that press against brake pads and rotors. This ingenious structure not only allows for superior accuracy when braking but also provides remarkable stopping power unmatched by any other type of brakes on the market today.
ABS
When you need to make an urgent stop, Anti-lock Braking Systems (ABS) give you the peace of mind that your tires won't lock up and skid. This cutting-edge technology provides drivers with a sense of security, knowing that ABS will always be there for them in times of crisis. With its unwavering reliability and dependable protection on the road, ABS ensures safe driving every time.
ESC
Experience a secure and uninterrupted journey with Electronic Stability Control (ESC). If your vehicle is speeding along but you suddenly find yourself in danger of skidding or swerving, this advanced technology will be activated immediately to automatically adjust the brakes as well as steering wheel. Subsequently, you'll have complete power over navigating ahead!
Checking Your Brakes for Problems
Check Visually
Staying diligent and inspecting your brake discs and pads regularly is essential in ensuring their optimal performance. Doing so will enable you to quickly identify when maintenance or replacements are needed, helping maintain the smooth operation of the entire system.
Test Pedal Pressure
If you notice that pressing your brake pedal feels squishy or soft, don't delay in getting expert assistance! This is a clear sign that there's an issue with your brakes and it needs to be attended to immediately.
Listen to Strange Sounds
A sharp, squeaky squeal when braking is an urgent warning sign that your brakes must be inspected immediately.
Feel How Your Vehicle Drives
If you feel your steering wheel vibrating or if your car begins to stray from its path, it's time to inspect the brakes before incurring further harm.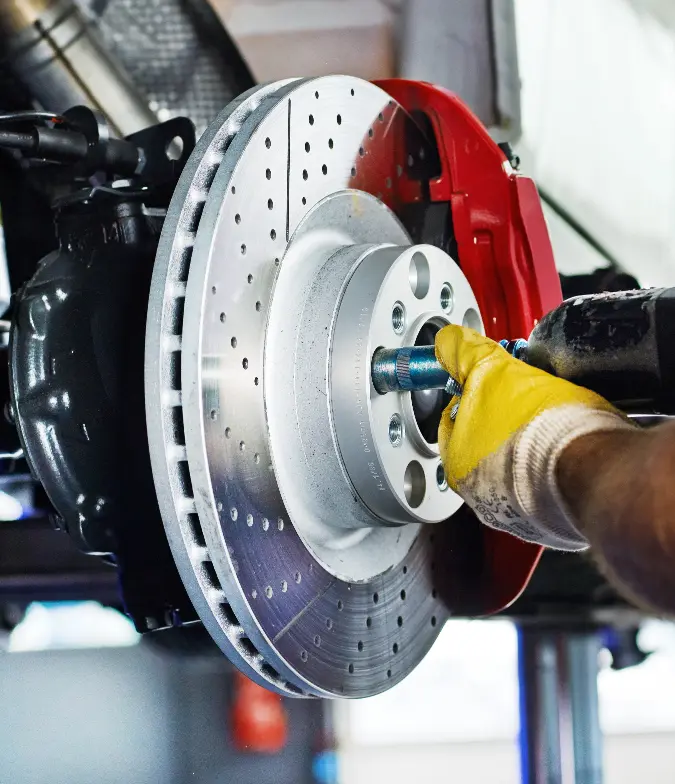 Come to Master AutoTech Logan
If you want to enjoy the open roads of Utah securely and serenely, your car must have brakes that you can trust. The specialists at Master AutoTech Logan are here for all your vehicle's needs – from replacing or checking out its brakes to other services – so that you are back driving with assurance swiftly! Put your faith in our team today; we guarantee satisfaction every time.
601 N Main St Logan, UT 84321