Auto AC Repair in Logan, Utah
Master AutoTech Logan offers car air conditioning repair services to keep your vehicle's AC system functioning properly. A fully operational AC system is important for a comfortable and rejuvenating driving experience, and our services aim to ensure it.
Utah's air conditioning system technicians are devoted to promptly and accurately detecting and fixing any problems with your car's air conditioning system.
AC Repair Services Offered
Diagnosis and Troubleshooting
We will utilize advanced diagnostic equipment to inspect your vehicle's air conditioning system and determine the root cause of any issues. Then, we will provide a clear and simple explanation of the necessary repairs.
AC Component Repairs and Replacements
We aim to fix the broken parts of your AC system, including the compressor, condenser, and evaporator, in order to restore its smooth and efficient functioning. Our repair service comes with a guarantee that your AC will work properly once we're done.
AC System Recharge and Refrigerant Services
If your AC system is not emitting cool air, it could be due to insufficient refrigerant levels or leaks that need fixing. Our proficient technicians can address this problem by adding refrigerant and repairing any leaks, guaranteeing the smooth operation of your AC system.
Electrical System Repairs
If your AC is not working properly due to faulty switches, relays, or wiring, our technicians can fix these electrical issues. This will ensure that your AC runs smoothly and any performance problems caused by electrical problems will be resolved.
Signs of AC Problems
It's crucial to recognize any signs of malfunction in your AC system for timely resolution of issues. Some usual indications of AC problems are:
Inadequate cooling
Weak airflow
Strange odors
Unusual noises
Excessive condensation
If you notice any of these signs, Master AutoTech Logan is able to diagnose and fix issues with your vehicle.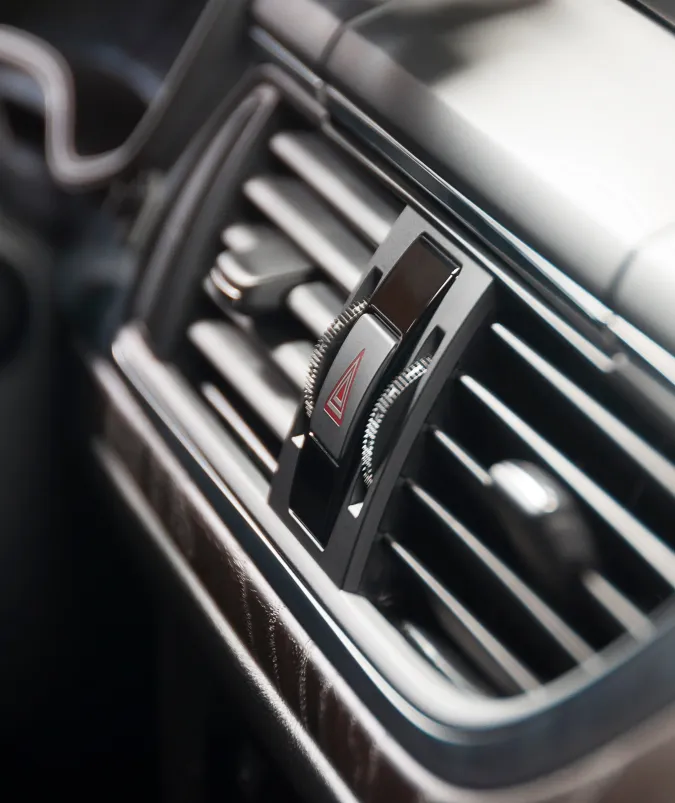 Components of an Auto AC Unit
Compressor
The compressor, which is powered by the serpentine belt, plays a crucial role in the cooling system. It pressurizes and circulates the refrigerant in its gaseous state.
Condenser
To refrigerate something, follow these steps: compress the refrigerant while it is in a gas form, and then direct the compressed refrigerant to the condenser where it will turn into a liquid similar to a radiator. By doing this, heat is eliminated from the high-pressure refrigerant, which can cause high temperatures.
Receiver-Drier
It is important to carefully filter the high-pressure liquid refrigerant in order to protect the air conditioning system from water or debris.
Thermal Expansion Valve OR Orifice Tube
Car air conditioning systems use methods such as the orifice tube and thermal expansion valve to control the flow of refrigerant and reduce pressure to convert it into a gas.
Evaporator
The evaporator is a part located behind the dashboard that operates by expanding liquid refrigerant to cool the air. It has fins and pipes that resemble a radiator. The cooled air is then blown into the passenger compartment with the help of a fan.
Why Bring Your Vehicle's AC to Master AutoTech Logan?
Expert Technicians
We can provide reliable and efficient air conditioning repair services because our specialists are well-versed in the latest AC models and technologies.
Quality Parts and Materials
Our AC system repairs and replacements utilize top-notch components like OEM parts or equivalent options to enhance its lifespan and performance. We also incorporate high-grade refrigerants and accessories to elevate your AC system's quality.
Modern Diagnostic Tools and Equipment
Our skilled technicians use advanced diagnostic tools and specialized equipment to maintain and troubleshoot AC systems in our facilities. With these tools, they accurately identify issues and perform effective repairs, allowing us to offer high-quality service.
Hear from Our Customers
See these customer testimonials to see how our excellent services are reflected in their feedback and confirm the value we provide to our clients.
"I'm in the middle of a tricky rebuild on a classic and needed some very precise exhaust parts bent.  I made templates but even still wasn't 100% sure they would work.  Jeremy did an exceptional job bending the parts as close to my templates as possible.  After fitting them back at my shop I found that some adjustments were needed (not his fault).  This happened a few times as I refined the fit.  Each time Jeremy very patiently helped me out until I got the fit I needed.  I definitely will be back and will recommend this shop to others."
"The new owners here are great! Jeremy was kind and professional and went the extra mile – he even gave my toddler a popsicle while we waited. They gave us a great price and were very quick and helpful. The waiting room and bathroom were clean and newly renovated. I would definitely recommend this shop to anyone in Logan!"
"I had a great experience. They were very quick and friendly. They were able to repair my damaged muffler same day and for a great price. Even fixed some of the plastic guards underneath my car that were hanging loose."
"Needed a muffler installed they did an excellent job! The price was very reasonable as well,  very happy!"

Stop by Master AutoTech Logan Today
For reliable AC system repair for your car, trust Master AutoTech Logan. Our experienced technicians utilize high-quality parts and advanced equipment to ensure optimal functions of your AC system. Our assistance is available to Utah drivers.
Contact Master AutoTech today for auto AC repair services that aim to exceed your expectations. We strive to ensure that your driving experience is comfortable and enjoyable.
601 N Main St, Logan, UT 84321