Keeping your car brakes in top condition is vital for safety, and preventing problems before they arise is the best way to ensure their peak performance. Regular checkups are a must so you can avoid potentially hazardous situations when driving; being proactive now will give you peace of mind during future journeys! Don't let unexpected disasters happen – make sure that your brake system remains intact all the time.
Layton Automotive Brake Repair
Is the brake pedal lacking its usual springiness? Are there any strange grinding or squeaking noises emanating from your brakes? If you answered yes to either question, come by Master AutoTech Layton for an inspection. We are committed to protecting Utah drivers and restoring every component of their braking system with efficiency and reliability. Preserve yourself as well as ensure that your car is running smoothly – don't wait, visit us at Master AutoTech Layton today!
Stop waiting – come to Master AutoTech in Layton right away and let our highly-skilled technicians provide you with a complimentary assessment. We have the expertise necessary to service both disc brakes and drum brakes all year long, no matter what season it is or what your automotive needs may be.
Opt for Safety: Choose Quality Brakes
Don't put off necessary brake repairs any longer – get them done today! Our skillful, knowledgeable team provides fast, efficient service; whether your brakes are squeaking or you just need a tune-up, we have the tools to take care of it. Put an end to procrastination and book in with us – our experienced staff will ensure that everything is completed quickly and properly so you can be sure on the road soon. Take care of yourself by making an appointment right away!
Make Master AutoTech Layton your go-to for brake repair and replacements, because our certified technicians always deliver! Our expertise coupled with dependable services guarantees a long-lasting outcome. With the assurance of high-quality service each time you come to us, why would you choose anyone else? Experience excellence today – take advantage of all that we have to offer and keep coming back for more!
Drum Brakes
Celebrated for its dependability, the classic drum brake system utilizes a wheel cylinder to firmly squeeze against the inner surface of a rotating drum, allowing your car to stop instantly.
Disc Brakes
Disc brakes are an ingenious design, featuring calipers that exert pressure against brake pads and rotors. This efficient structure not only enables exceptional accuracy with its braking but also delivers incomparable stopping power to no other type of brakes in the market today.
ABS
Anti-lock Braking Systems (ABS) provide the most dependable protection to drivers on the road, guaranteeing that your tires won't freeze up if you suddenly and urgently need to brake. This innovative technology gives motorists a sense of security as they drive, assured in knowing ABS will be there for them whenever an emergency braking situation arises.
ESC
Enjoy a smooth and secure ride with ESC (Electronic Stability Control). If you're driving too quickly and find yourself in danger of skidding or veering off course, this advanced technology will kick into gear right away by adjusting your brakes and steering wheel. As a result, you'll be back in full control of the road ahead.
Checking Your Brakes for Problems
Check Visually
Don't forget to frequently inspect your brake discs and pads for any signs of damage or wear! This will allow you to quickly identify when it's time for maintenance on the brakes, helping maintain their optimal performance. Be vigilant; never neglect this step!
Test Pedal Pressure
If your brake pedal has a spongy sensation when you press it, this is an unmistakable sign that you must immediately seek professional inspection and servicing for your brakes.
Listen to Strange Sounds
When you hear a sharp, squeaky squeal when braking, it's absolutely imperative that your brakes are inspected without delay.
Feel How Your Vehicle Drives
If you feel the steering wheel trembling or your vehicle going off track, it's time to inspect its brakes before any further damage is done.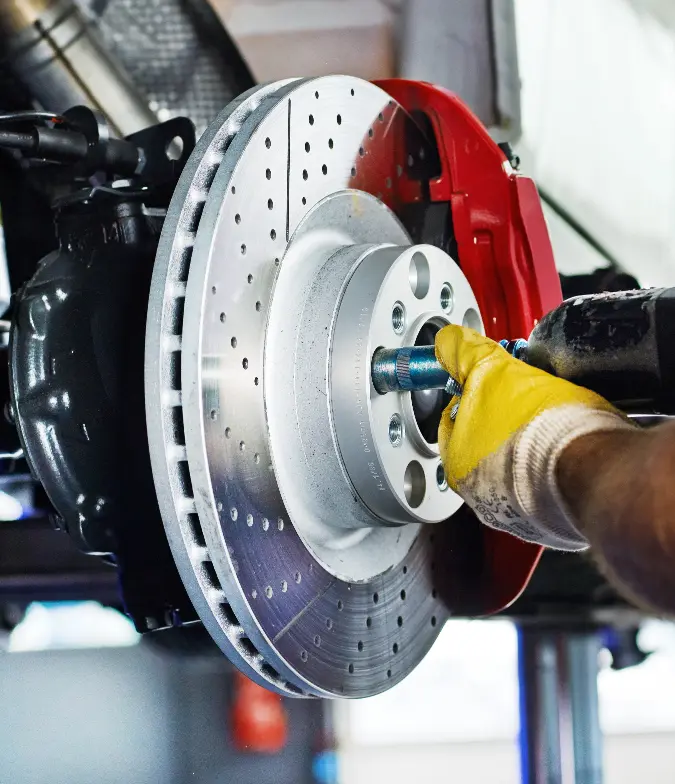 Come to Master AutoTech Layton
To drive Utah's roads with peace of mind, you must have brakes that can be trusted. If your vehicle requires a brake replacement or check-up, the experts at Master AutoTech Layton are here to help. Our team will provide top-notch services for all your car needs and get you back on the road quickly and confidently!
1591 N Main St. Layton, UT 84041