Wheel Alignment Services in Layton, Utah
Welcome to Master AutoTech Layton, your trusted destination for top-notch alignment services in Layton, Utah. Our team of highly skilled technicians is dedicated to ensuring the flawless operation of your vehicle's alignment system.
We fully understand the paramount importance of precise wheel alignment and provide comprehensive services that optimize performance and prioritize safety. You can rest assured knowing that your vehicle is in the capable hands of experienced professionals.
Alignment Services Offered
Wheel Alignments
Our team of highly skilled technicians employs state-of-the-art alignment equipment to thoroughly assess and rectify the wheel alignment of your vehicle with unparalleled precision. By guaranteeing meticulous alignment, you can experience uniform tire wear, enhanced fuel efficiency, and exceptional handling and safety performance.
Tire Balancing
Uneven tire wear and uncomfortable vibrations can result from tire imbalance. At Master AutoTech Layton, we utilize cutting-edge equipment to precisely balance your tires, ensuring a seamless and secure driving experience.
With our advanced technology, you can confidently traverse the roads, knowing that your tires will deliver exceptional performance and enhance your overall driving pleasure.
Suspension Adjustments
Maintaining a properly functioning suspension system is essential for a smooth and secure driving experience. At our facility, our team of highly skilled professionals specializes in conducting thorough inspections and precise fine-tuning of your vehicle's suspension components. With our meticulous approach, we guarantee optimal performance and handling.
With our expertise, we prioritize your safety on the road while enhancing your overall driving pleasure. You can trust us to provide unparalleled service, delivering excellence at every step. Our ultimate goal is to ensure that you enjoy a reliable and enjoyable driving experience.
Signs of Transmission Problems
By being aware of the signs of misalignment, you empower yourself to take prompt action and minimize the risk of potential harm.
Stay watchful for these common indicators of alignment issues:
Uneven tire wear
Vehicle pulling to one side
Steering wheel not centered
Vibrations while driving
When it comes to dependable and essential professional assistance, you can confidently rely on the expertise of our highly skilled technicians at Master AutoTech Layton. With their extensive knowledge, they can diagnose and efficiently resolve any alignment issues, ensuring that your vehicle remains in optimal condition.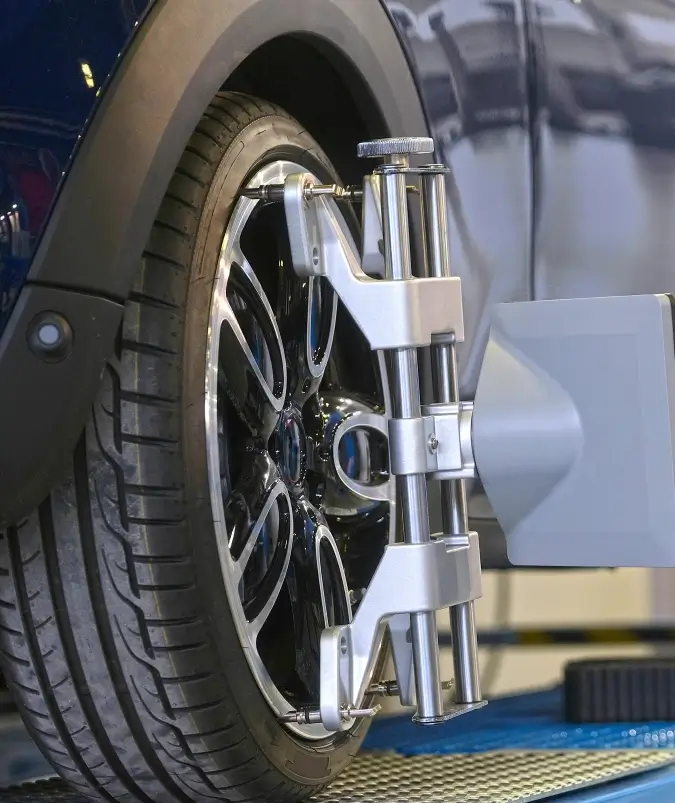 Benefits of Choosing Master AutoTech
Expertise and Experience
Our technicians possess extensive knowledge and expertise in effectively managing various alignment systems. They remain fully committed to staying abreast of the latest advancements in the automotive industry, allowing them to provide unmatched service with exceptional skill and precision. Rest assured, their dedication ensures that you receive the highest level of quality and professionalism.
Quality Parts and Materials
Our unwavering dedication lies in providing precise and dependable alignment adjustments and maintenance services. We accomplish this by utilizing only the finest components and materials. Rest assured, your vehicle will perform optimally and maintain long-lasting alignment accuracy through our meticulous commitment.
State-of-the-Art Facilities and Equipment
Our top-notch facilities feature advanced alignment equipment and state-of-the-art service bays. We provide efficient and reliable alignment services, guaranteeing the utmost precision and customer satisfaction with the help of easily accessible cutting-edge technology.
Hear from Our Customers
Our excellence is reflected in the testimonials of our satisfied customers. Please take a look at what our valued clients have to say.
"My car broke down during a trip to Brigham City from Salt Lake City. Master Muffler took care of me going well above and beyond. The price they quoted was just and accurate. I was happy and I believe they were honest and good with their treatment of me and the issue. I've used this Master Muffler in the past and have always felt good about the interaction. I'd recommend them as a mechanic to go to."
"They always are courteous and the work I want done is all that is done. They never try to sell you something you don't need. Their prices are good and I trust what they say is what they will do. If anyone in Brigham needs work done I would not hesitate to recommend Master muffler."
"I've worked with Jeremy and Jared over there and both are great people who care about their customers.  I definitely have had my share of bad experiences with auto mechanics but not here.  I have found them honest in all my interactions to date (several) and quite reasonably priced based upon my experience.  They do way more than mufflers and brakes also so don't let the name hold you back.  In fact, I have only seen them for other repairs and maintenance.  Will go back!"
"Master Muffler is great.  Had some issues with my car and they went above and beyond to take care of it.  Jeremy and Jared really are great to work with.  Would highly recommend."
"Jared is the real MVP. Everyone was so nice here and they got us  in after breaking down on the highway. Highly recommend this amazing service. Now we can safely get back home."

Visit Master AutoTech Layton Today!
For top-notch alignment services, look no further than Master AutoTech Layton. Our unwavering commitment to excellence sets us apart as we proudly serve Layton, Utah, and the surrounding areas. With state-of-the-art facilities and unparalleled expertise, we guarantee precision and performance with every alignment. Experience the pinnacle of quality and service with us.
Contact us today to discover our reliable and exceptionally efficient transmission solutions that will exceed all your expectations.
1591 Main St, Layton, UT 84041