Auto AC Repair in Layton, Utah
Master AutoTech Layton provides car air conditioning repair services, which are essential to ensure your vehicle's air conditioning system functions correctly. A working air conditioning system is vital for a comfortable and refreshing driving experience. Our services aim to achieve this goal.
The air conditioning system technicians in Utah are highly skilled and committed to quickly identifying and resolving any issues with your vehicle's air conditioning system.
AC Repair Services Offered
Diagnosis and Troubleshooting
We will use sophisticated diagnostic tools to examine your car's air conditioning system and identify the underlying reason for any problems. Afterward, we will clearly and plainly explain the required repairs.
AC Component Repairs and Replacements
Our goal is to restore smooth and efficient functioning to your AC system by repairing broken parts such as the compressor, condenser, and evaporator. We guarantee that your AC will work properly after we've completed our repair service.
AC System Recharge and Refrigerant Services
If your AC system is not blowing cool air, it might be because of low refrigerant levels or potential leaks. Our skilled technicians can fix this issue by adding refrigerant and repairing the leaks to ensure that your AC system operates smoothly.
Electrical System Repairs
Our technicians can fix electrical issues such as faulty switches, relays, or wiring if your AC is not working properly. By doing so, your AC will run smoothly, and any performance issues caused by electrical problems will be resolved.
Signs of AC Problems
To quickly address any issues that arise with your AC system, it's important to identify signs of malfunction. Common indications of AC problems include:
Inadequate cooling
Weak airflow
Strange odors
Unusual noises
Excessive condensation
Master AutoTech Layton can diagnose and repair your vehicle if you observe any of these signs.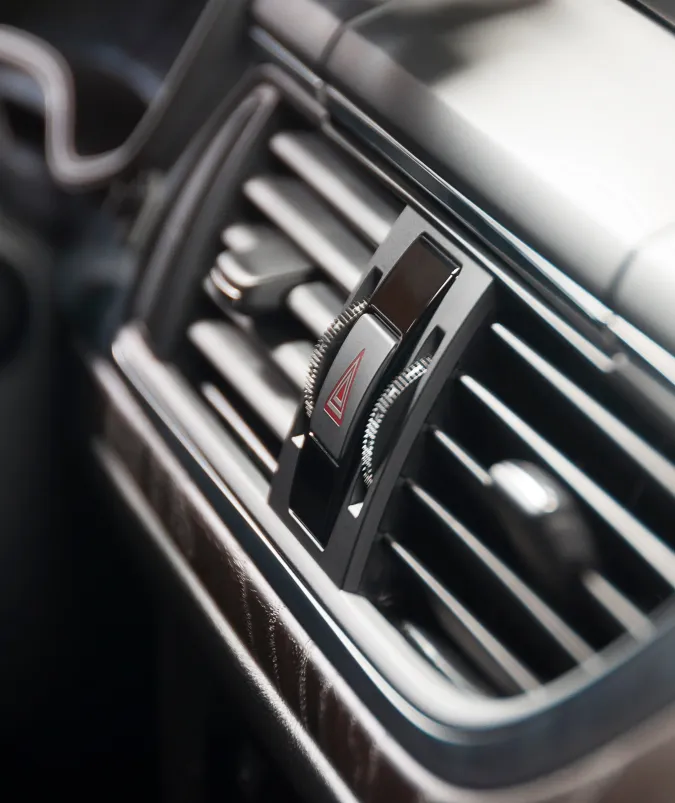 Components of an Auto AC Unit
Compressor
The compressor is an essential part of the cooling system. It pressurizes and circulates the refrigerant in its gaseous state, and it's powered by the serpentine belt.
Condenser
To refrigerate something, first compress the refrigerant while it is in gas form. Then, direct the compressed refrigerant to the condenser, where it will turn into a liquid similar to a radiator. This process eliminates heat from the high-pressure refrigerant, which can cause high temperatures.
Receiver-Drier
To safeguard the air conditioning system, filtering the high-pressure liquid refrigerant meticulously is crucial to eliminate water or debris.
Thermal Expansion Valve OR Orifice Tube
Car A/C systems use various methods, like the orifice tube or thermal expansion valve, to regulate the flow of refrigerant and convert it into a gas by reducing pressure.
Evaporator
The evaporator is a device that cools the air by expanding liquid refrigerant and it looks like a radiator with fins and pipes. It's usually located behind the dashboard and a fan blows the cooled air into the passenger compartment of your vehicle.
Why Bring Your Vehicle's AC to Master AutoTech Layton?
Expert Technicians
Our specialists are highly knowledgeable about the latest AC models and technologies, which allows us to provide dependable and efficient repair services for air conditioning units.
Quality Parts and Materials
We use high-quality components for repairing or replacing your AC system, such as OEM parts or similar alternatives, in order to improve its performance and lifespan. We also use premium refrigerants and accessories to further enhance your AC system's quality.
Modern Diagnostic Tools and Equipment
Our facilities are equipped with advanced diagnostic tools and specialized equipment that our skilled technicians use to maintain and troubleshoot AC systems. By using these tools, our technicians can accurately identify any issues and perform effective repairs, allowing us to offer high-quality service.
Hear from Our Customers
Please take a moment to read the testimonials from our satisfied customers. These testimonials demonstrate how our exceptional services are reflected in their feedback and confirm the value we provide to our clients.
"They're very nice at this location. Unlike other mechanics I've been to, they don't try to pressure you or upsell you on services. They were straightforward, flexible, and easy to work with. …Overall great experience and if we need anything major done to the cars again we will definitely come back to this location."
"Master Muffler in Layton has been so amazing to work with! They were all kind and honest with me about what needed to be fixed on my vehicle. The manager, Mike, went above and beyond to help me with a solution when I was stressed about the price point to make the repairs. This place is honest and very considerate! I will never take my car anywhere else now. Thank you Master Muffler of Layton!"
"This place is amazing, they did such a wonderful job on my car. I got a new exhaust and now my car sounds like such a badass, and they also have very reasonable and fair prices 10/10 and would definitely recommend to anyone who wants something done to their car!!!"
"Good experience with Master Muffler in Layton. This was our first time there. We took our car there on a recommendation. They fixed it quick at the price quoted. Would go there again."
"The three Mikes were awesome and able to get me in same day with all parts i needed for my truck on hand. Excellent consultation advice that exceeded my expectations…highly recommended! A++"

Stop by Master AutoTech Layton Today
If you need your car's AC system repaired, choose Master AutoTech Layton for dependable service. Our skilled technicians use top-notch parts and advanced equipment to ensure your AC system functions at its best. We provide assistance to drivers in Utah.
If you need auto AC repair services that go beyond your expectations, contact Master AutoTech today. Our goal is to make sure you have a comfortable and enjoyable driving experience.
1591 Main St, Layton, UT 84041