Maintaining the health of your car's brakes is an absolute must for safety, and regular inspections are a must in order to preserve their peak performance. Examining them before they reach a critical state will save you from any hazardous conditions when driving – taking proactive steps now instead will protect you on future trips! Don't let unforeseen disasters occur; be sure that your brakes are in good condition at all times.
Kearns Automotive Brake Repair
Have you felt a strange softness when pushing the brake pedal? Are there any odd grinding or squeaking sounds coming from your brakes? If so, it's time to visit Master AutoTech Kearns. We prioritize Utah drivers' safety by carefully inspecting and restoring every component of their braking system with speed and trustworthiness. Don't wait – keep yourself safe as well as ensure that you're driving smoothly with assistance from Master AutoTech Kearns!
Don't delay any longer – come to Master AutoTech Kearns and let our experienced technicians get you back on the road with a free assessment. Regardless of the season, we have the expertise needed to manage both disc and drum brakes for all your automotive needs.
Quality Brakes Means Better Safety
Don't delay your necessary brake repairs any longer – get them taken care of today! Our knowledgeable and experienced crew offers quick, efficient service; no matter if you require to fix squeaking brakes or just a tune-up, we have the right tools for the job. Put an end to procrastination and book in with us now – our expert team will make sure that everything is done quickly and safely so you can be confident on the road again soon. Look after yourself by making an appointment immediately!
When you require brake repair or replacements, make Master AutoTech Kearns your premier choice! Our team of certified technicians offers not just dependable services but guarantees their longevity as well. With our outstanding experience and knowledge, why would you settle for anyone else? Rely on us to assure high-quality service every time – give us a try today and keep coming back for more!
Drum Brakes
Praised for its reliability, the conventional drum brake system uses a wheel cylinder to firmly press against the interior of a rotating drum and efficiently halt your vehicle in an instant.
Disc Brakes
Disc brakes are a simple yet powerful braking system, featuring calipers that press against brake pads and clamp onto rotors. This well-designed structure provides both precision control and maximum stopping power – unsurpassed by any other kind of brakes.
ABS
Anti-lock Braking Systems (ABS) deliver the ultimate safety measure for drivers on the road, ensuring that your wheels won't lock if you need to brake sharply and unexpectedly. This groundbreaking technology gives motorists assurance while driving, as they know ABS will be there in any emergency braking situation.
ESC
ESC (Electronic Stability Control) offers a secure and effortless ride. If you're driving too quickly and begin to skid or veer off course, this cutting-edge technology will activate in an instant, adjusting
Checking Your Brakes for Problems
Check Visually
Regularly inspecting your brake discs and pads is a must to maintain their optimal performance. Be sure to vigilantly look for any signs of damage or wear, as this will help you quickly identify when maintenance needs to be done on the brakes – never forget it!
Test Pedal Pressure
If you detect a spongy-like feeling upon pressing your brake pedal, it is an unmistakable warning that your brakes require immediate professional inspection and servicing.
Listen to Strange Sounds
If you are hearing a high-pitched squeal when you brake, it is absolutely essential to have your brakes inspected immediately.
Feel How Your Vehicle Drives
If you feel the steering wheel shivering or your car veering off course, it's time to inspect its brakes.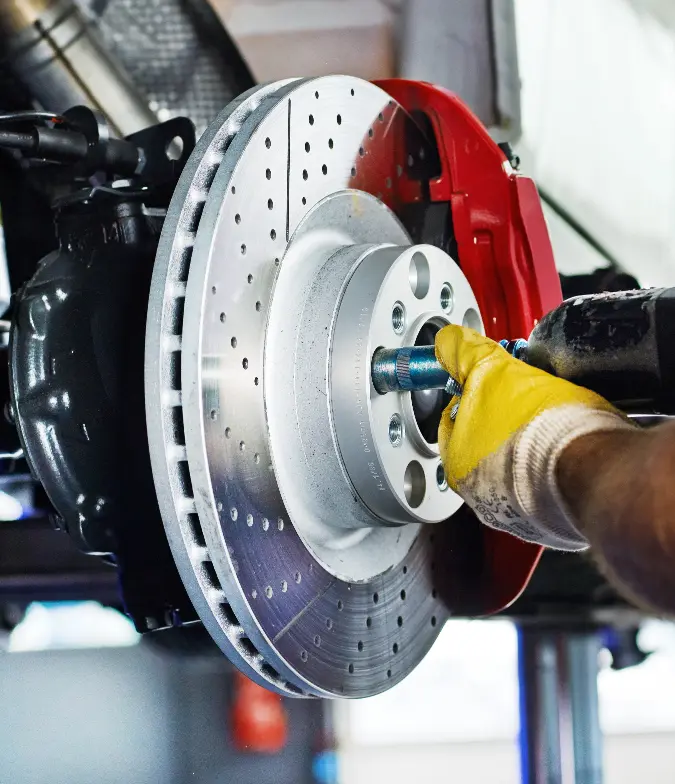 Come to Master AutoTech Kearns
To ensure the safety of yourself and other drivers, it is pivotal to have properly functioning brakes. If you are in need of quality services such as brake replacements or check-ups for your vehicle, Master AutoTech Kearns has got you covered! Our team of specialists will quickly address all car needs so that you can drive Utah roads with serenity.
4219 W. 5415 S. Kearns, UT 84118