Auto AC Repair in Kearns, Utah
At Master AutoTech Kearns, we offer car air conditioning repair services to ensure that your vehicle's air conditioning system works correctly. It's crucial to have a working air conditioning system while driving. Our services aim to provide you with a pleasant and refreshing experience during your trip.
The technicians located in Utah are skilled and dedicated to promptly identifying and fixing any problems with your vehicle's air conditioning system.
AC Repair Services Offered
Diagnosis and Troubleshooting
We will use advanced diagnostic equipment to inspect your car's air conditioning system and determine the root cause of any issues. They will then explain the necessary repairs in a clear and simple way.
AC Component Repairs and Replacements
We provide AC repair services for broken parts like the compressor, condenser, and evaporator to ensure your AC operates efficiently. Our objective is to restore smooth functioning to your AC system. Additionally, we guarantee that your AC will work properly after we've completed our repair service.
AC System Recharge and Refrigerant Services
If your AC system is not providing cool air, it could be due to low refrigerant levels or possible leaks. Our trained technicians can recharge your AC system by adding the necessary refrigerant and fixing any leaks to make sure it runs smoothly.
Electrical System Repairs
If your AC is not working properly, our technicians can fix electrical issues like faulty switches, relays, or wiring. This will guarantee that your AC runs smoothly. Remember, electrical problems may cause performance issues in your AC.
Signs of AC Problems
It is important to be able to identify signs of a malfunctioning AC system so that you can quickly address any issues that arise. Some of the common indications of AC problems include:
Inadequate cooling
Weak airflow
Strange odors
Unusual noises
Excessive condensation
If you notice any of these signs, Master AutoTech Kearns is available to diagnose and repair your vehicle.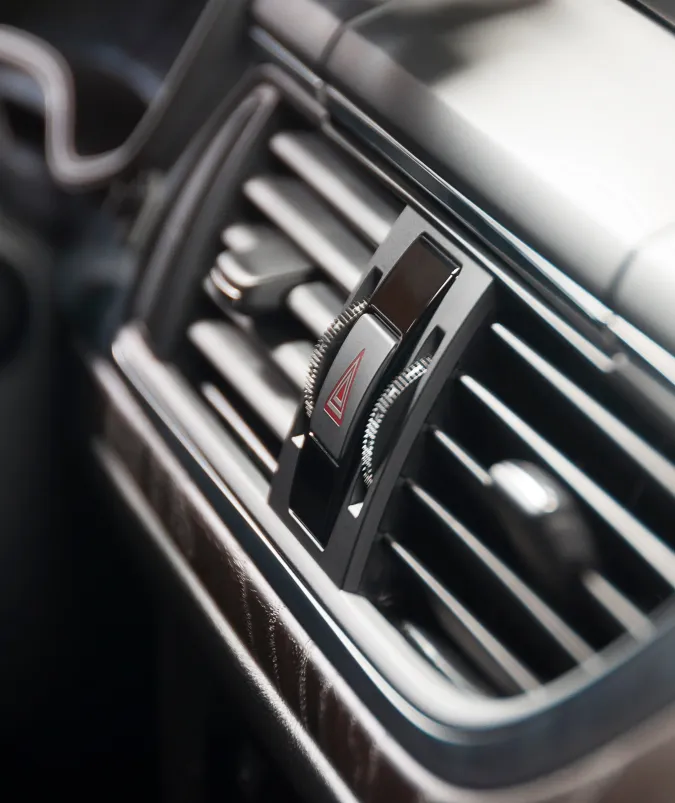 Components of an Auto AC Unit
Compressor
The compressor plays a vital role in the cooling system by pressurizing and circulating the refrigerant in its gaseous state. The compressor is powered by the serpentine belt.
Condenser
In order to refrigerate something, you must first compress the refrigerant while it is in gas form. The compressed refrigerant is then directed to the condenser, where it transforms into a liquid. The condenser functions in a similar way to a radiator by eliminating heat from the high-pressure refrigerant, which can lead to high temperatures.
Receiver-Drier
It is important to carefully filter the high-pressure liquid refrigerant in order to remove any water or debris and ensure the protection of the air conditioning system.
Thermal Expansion Valve OR Orifice Tube
Most cars have A/C systems that use different methods, such as an orifice tube or thermal expansion valve, to control the refrigerant flow. This releases pressure to turn the refrigerant into a gas.
Evaporator
The evaporator is a cooling device that rapidly cools the air by expanding liquid refrigerant. It is similar in appearance to a radiator with fins and pipes and is commonly situated behind the dashboard. A fan blows the cooled air into the passenger compartment of your vehicle.
Why Bring Your Vehicle's AC to Master AutoTech Kearns?
Expert Technicians
Our repair services for air conditioning units are dependable and efficient thanks to the expertise of our specialists who are well-versed in the latest AC models and technologies.
Quality Parts and Materials
Our main focus is to ensure the use of premium components for AC system repairs or replacements, such as OEM parts or comparable substitutes. We strive to enhance your AC system's performance and lifespan by using top-quality refrigerants and accessories.
Modern Diagnostic Tools and Equipment
We have advanced diagnostic tools and specialized equipment at our facilities that we use to maintain and troubleshoot AC systems. When our skilled technicians use these tools, they can accurately identify any issues and perform effective repairs, which allows us to provide high-quality service.
Hear from Our Customers
We encourage you to review the testimonials from our happy customers. These testimonials showcase how our company's outstanding services are reflected in their feedback and validate the worth we offer to our clients.
"Great place to go, reasonable prices and they take care of you quickly. I had my rims put on and shocks replaced. Wonderful people to do business with. Recommend them highly!"
***HIGHLY RECOMMEND***
"Amazing work on replacing my 2015 Ford Edge transfer case and drive shaft!! Big job, but these guys did it. So grateful for the whole process and commitment to get it done."
"Riley did awesome work to my 05 Saturn Relay had an exhaust leak. Took care of my vehicle in less than 30 min and got me back on the road. I'll be sure to return, for any other future services. Thank you!"
"My boyfriend took his suburban in to get his muffler fix, did good quick work for a good price. Paid exactly what we were quoted when we called and wasn't waiting long to get back on the road."
"These guys know their stuff about trucks. I didn't know Master Muffler did more than exhaust? I needed an oil change on my truck and stopped in to ask for the service. They do provide it with a reasonable price and a courtesy check on brakes visually to help customer stay safe on the road was no extra charge. Wow! I'll be back. Thank you guys for the great service!"

Stop by Master AutoTech Kearns Today
For reliable auto AC repairs, opt for Master AutoTech Kearns. Our experienced technicians use high-quality parts and advanced facilities to deliver peak performance for your AC system. If you're a driver in Utah, we are here to serve you.
Contact Master AutoTech today if you require auto AC repair services that exceed your expectations. Our objective is to provide you with a comfortable and pleasant driving experience.
4219 W 5415 S, Kearns, UT 84118