The Muffler Experts in
Downtown SLC, Utah
Master AutoTech Downtown SLC specializes in mufflers and exhaust systems. Our skilled technicians offer maintenance, upgrades, and repairs to keep your car's exhaust system fully functional. A working exhaust system is crucial for safety, the environment, and fuel efficiency. Trust us for inspections and all your auto care needs. We are the professionals you can rely on.
What Is a Muffler?
Your vehicle is equipped with a muffler in its exhaust system. The muffler is made of steel pipes and specialized chambers that work to reduce the amount of noise produced by the engine.
Diagnosing Muffler Problems
Being aware of the warning signs of muffler and exhaust system issues is crucial because they can cause different problems. This is especially true in Utah, where the weather can change unpredictably from hot and dry to snowy and cold. Mufflers and exhaust systems of cars are more prone to damage in such weather conditions. Additionally, the use of road salts during snowy conditions increases the likelihood of damage.
Do you need help determining if your car's muffler or exhaust system requires maintenance? Signals of a faulty exhaust system can vary from gentle to severe, like pinging or knocking noises, causing dangerous exhaust leaks if not resolved. Additionally, you may observe loud rumbling sounds, rough idling, weak performance during startup, unusual vibration, and decreased fuel efficiency.
Why Use a High-Performance Muffler?
Choosing high-performance mufflers can not only reduce noise but also enhance your vehicle's engine efficiency, power output, and performance by reducing back pressure. To take your vehicle's performance to the next level, think about purchasing a larger diameter muffler pipe with better air intake such as a "cold air intake" style.
What Types of Mufflers Are There?
To ensure your vehicle functions properly, it is crucial to select the appropriate muffler type. You can choose from various muffler types, such as:
Universal mufflers
These would be a good option for improving your vehicle's performance while keeping the sound quality and fuel efficiency intact.
High-flow mufflers
These mufflers are designed to prioritize performance over silence, improving airflow and providing a high-quality sound that can increase the horsepower of your car.
Racing mufflers
By decreasing back pressure and increasing horsepower, these parts can enhance the performance of your race car.
Diesel mufflers
These products are meant for diesel-powered vehicles and have the goals of decreasing emissions, improving fuel efficiency, and providing a quieter driving experience.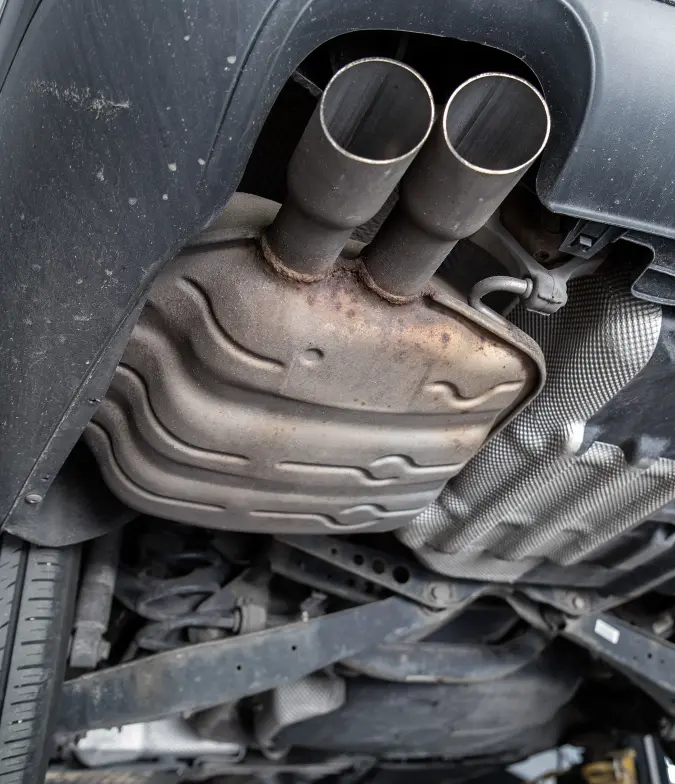 At Master AutoTech, we are experts in creating custom mufflers that provide better performance and efficiency. Our skilled technicians use advanced engineering principles and state-of-the-art technology to ensure precise and accurate design for each muffler.
Our mufflers are made from high-quality materials that can withstand high temperatures, pressure, and weather conditions. This ensures that your vehicle's performance is optimized and that the muffler lasts longer. Additionally, our branded mufflers have a distinctive look that distinguishes them from standard factory mufflers.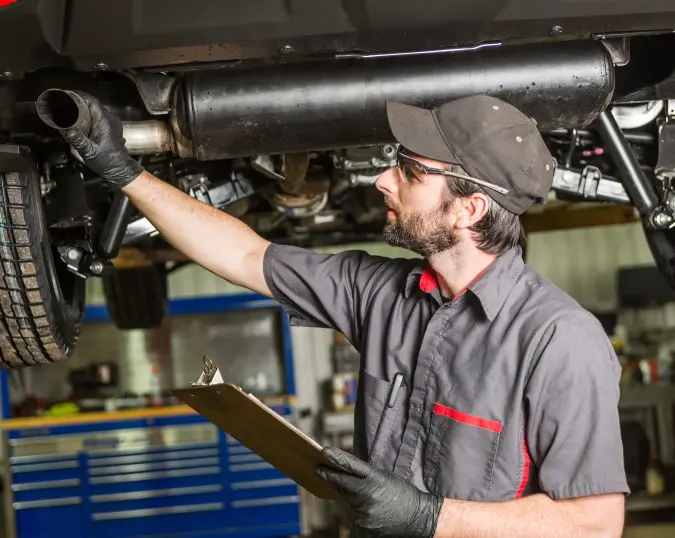 How Do I Know Which Type of Muffler Will Be Best for Me?
If you're unsure about selecting the appropriate muffler and lack knowledge, don't fret. At Master AutoTech, our team is available to aid you. We comprehend that Utah's climate and landscape are varied, and our specialists are equipped to address any queries or apprehensions you may have. For auto maintenance in Utah or Idaho, you can rely on us; we're always ready to assist our clients.

Visit Master AutoTech Downtown SLC Today
For muffler repair or installation, visit Master AutoTech Downtown SLC. Our team of experts can help you choose the right muffler for your vehicle and answer any questions you may have. Contact us online or in-person to get started.
690 S. Main St. Salt Lake City, UT 84101