Auto AC Repair in Salt Lake City, Utah
At Master AutoTech Downtown SLC, we provide car air conditioning repair services to keep your vehicle's air conditioning system working. We understand the significance of having a functional air conditioning system while driving. Our services are sure to provide you a cool and comfortable ride throughout your journey.
In Utah, our technicians possess exceptional skills and are committed to quickly identifying and resolving issues with air conditioning in vehicles.
AC Repair Services Offered
Diagnosis and Troubleshooting
Our expert technicians use advanced diagnostic equipment to conduct a detailed inspection of your car's AC system. They identify the underlying cause of any issues and provide you with a clear explanation of the required repairs.
AC Component Repairs and Replacements
We can fix any broken parts in your AC system like the compressor, condenser, and evaporator. Our technicians will ensure that your AC system runs smoothly by repairing or replacing faulty parts. We guarantee that your AC will operate efficiently after we restore its proper functionality.
AC System Recharge and Refrigerant Services
If your AC system is not working properly and is blowing warm air, it might be caused by low refrigerant levels or leaks. To resolve this issue, our technicians will recharge your AC system by adding the right amount of refrigerant. We'll also find and fix any leaks to enhance the cooling efficiency of your AC system.
Electrical System Repairs
Our technicians are skilled in pinpointing and repairing electrical issues that could interfere with your AC's performance. They can repair defective switches, relays, or wiring, guaranteeing that your AC operates dependably. It's essential to note that electrical problems can impede the function of your AC.
Signs of AC Problems
It is important to be able to recognize signs of malfunction in your AC system in order to address issues quickly. Common indications of AC problems include:
Inadequate cooling
Weak airflow
Strange odors
Unusual noises
Excessive condensation
Master AutoTech Downtown SLC is available to help diagnose and repair your vehicle if you notice any of these signs.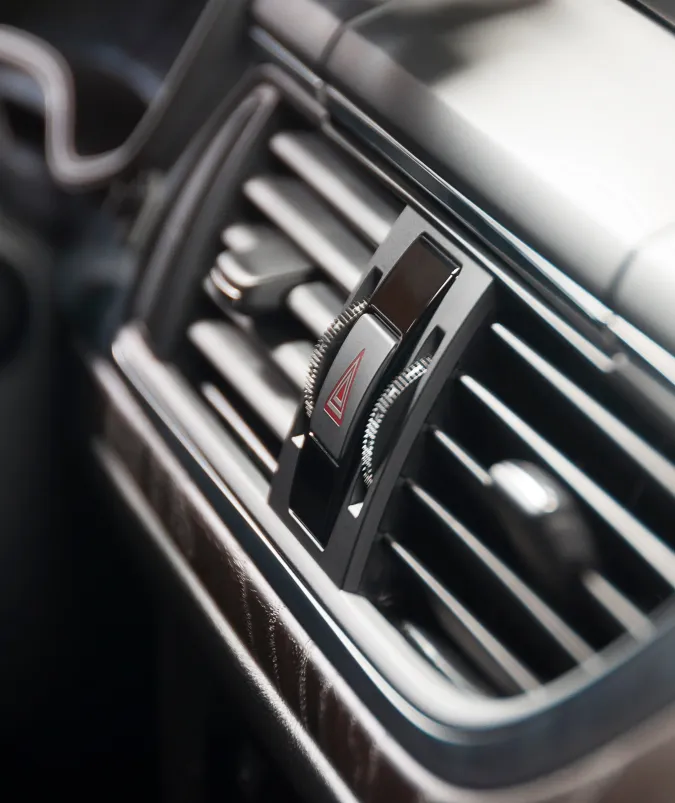 Components of an Auto AC Unit
Compressor
The main component of the cooling system is the compressor. It pressurizes and circulates the refrigerant in its gaseous state, and is powered by the serpentine belt.
Condenser
The process of refrigeration involves compressing the refrigerant in its gaseous state and then sending it to the condenser where it changes into a liquid state. The condenser functions similarly to a radiator and removes the heat from the high-pressure refrigerant, which may lead to high temperatures.
Receiver-Drier
The high-pressure liquid refrigerant needs to be filtered by the receiver to remove any debris or water that may cause harm to the air conditioning system.
Thermal Expansion Valve OR Orifice Tube
Although most cars have comparable A/C systems, they can utilize either an orifice tube or a thermal expansion valve to control the refrigerant flow and release pressure, allowing the refrigerant to expand into a gas.
Evaporator
The evaporator is responsible for quickly cooling air by expanding liquid refrigerant. It looks like a radiator with pipes and fins and is usually located behind the dashboard. To circulate the cooled air into your vehicle's cabin, an air blower fan is used.
Why Bring Your Vehicle's AC to Master AutoTech Downtown SLC?
Expert Technicians
Our AC repair specialists are highly skilled and experienced. They stay updated with the latest AC models and technologies to provide reliable and efficient repair services.
Quality Parts and Materials
Our priority is to use high-quality components, whether they are original equipment manufacturer (OEM) parts or equivalent alternatives, for any repairs or replacements needed. We aim to improve the performance and longevity of your AC system by utilizing top-notch refrigerants and accessories.
Modern Diagnostic Tools and Equipment
Our facilities are equipped with advanced diagnostic tools and specialized equipment for maintaining and troubleshooting AC systems, ensuring top-quality service. Utilizing these resources, our highly skilled technicians can accurately diagnose any problems and perform effective repairs.
Hear from Our Customers
Please take the time to read the testimonials from our happy customers. They illustrate how our company's excellence is reflected in their feedback and demonstrate the value we offer to our clients.
"I called several auto shops to get a headlight fixed but there were no openings anywhere. Master Muffler got me in the same day after saying it might be a wait. It took less than an hour and was a reasonable price. I'll definitely be going there again. Fast, polite and had a large clean waiting room.  It's a win for sure and made my day."
"The front desk man, Mike, was so incredibly kind and helpful. With both angry customers and me, he kept so calm and handled everything fantastically. That dude is a gem. The showroom was super clean and comfy and their service was quick. This location was great, especially for being in downtown. Would definitely come back :)"
"Kirk and the mechanic were awesome! Took in my wife's mazda and they went above and beyond! They were fair and more importantly honest and didn't treat my wife differently for being female. (Most shops do) highly recommend them. This is MY SHOP now!"
"This place is ABSOLUTELY INCREDIBLE! They went above and beyond for our vehicle which ended up being a bigger problem than we'd hoped but I'm so glad we went here. They were having trouble finding parts but rather than giving up, they went to several locations to make sure they could find the right piece and did multiple drives to ensure that they did a good job. I recommend that everyone go here. Wish I went sooner!"
"These guys are amazing! We were visiting SLC and our car wouldn't start. We had it towed to Master Muffler. They found the problem quickly and got us moving again. When we picked up our car, they said no charge, it only took a few minutes. Thank you for saving our trip!!"

Stop by Master AutoTech Downtown SLC Today
Choose Master AutoTech Downtown SLC for Auto AC repair. Our highly skilled technicians, top-notch parts, and state-of-the-art facilities ensure that your AC system will function optimally. Our services are available for Utah drivers.
If you want top-notch auto AC repair services that go above and beyond your expectations, reach out to Master AutoTech today. Our aim is to ensure your driving experience is comfortable and satisfying.
690 Main St, Salt Lake City, UT 84101