Your car's brakes are your most important safeguard against any potential driving hazards, and inspecting their components on a regular basis is critical. Examining these brake parts consistently before they reach the point of breakdown will protect you from disastrous situations that may come up while you're out on the road.
Ogden Downtown Automotive Brake Repair
Is your brake pedal feeling spongy or low? What about any strange grinding and squeaking noises when you press the brakes? If so, it's time to bring your car into Master AutoTech Ogden Downtown. Our experts will inspect all parts of the braking system thoroughly and repair whatever needs repairing for maximum dependability. Don't wait – we help keep Utah drivers on the road at Master AutoTech Ogden Downtown!
Don't procrastinate any longer – our Master AutoTech Ogden Downtown mechanics are here to assist you with a no-cost assessment and help ensure that your brakes remain in tip-top shape. Regardless if it's icy cold or scorching hot out, we have the expertise to perform both disc and drum brake repairs so that you can hit the roads again fast! Put your trust in us for all of your automotive brake repair requirements today.
Trustworthy Brakes: A Priceless Investment
Don't wait any longer – get your brake repairs done now! We offer speedy and reliable service for whatever you may need. Whether it's squeaky brakes that need to be fixed or just a tune-up, our team will have you back on the road quickly and safely. Let us take care of all of your braking needs today so you can trust in fast and secure service!
Visit Us in downtown Ogden.
When it comes to the maintenance of your vehicle's brakes, you can count on the certified technicians at Master AutoTech Ogden Downtown! Our team specializes in a range of services related to brake systems – from easy replacements such as swapping out pads to more intricate repairs. With our expertise and knowledge, you will receive long-lasting results with every job we complete. Place your trust in us for reliable service time and again!
Drum Brakes
Recognized for its reliability, the traditional drum brake system utilizes a wheel cylinder to securely press against the inner side of a rotating drum and effectively bring your vehicle to an abrupt halt.
Disc Brakes
When you need superior stopping power, disc brakes are a perfect choice. The calipers of these brake systems press down on pads that clamp onto rotors for optimal management and braking strength.
ABS
The Anti-lock Braking Systems (ABS) in today's cars provide an extra layer of security that proves absolutely invaluable. When you brake suddenly, or with more force than expected, ABS kicks into action and guarantees your wheels don't lock up–offering you peace of mind while on the road.
ESC
ESC (Electronic Stability Control) offers drivers a smoother, more secure ride. If your automobile detects that you are beginning to swerve or skid because of driving too quickly, this technology comes into action and immediately shifts the brakes and steering wheel so that you remain in command of what lies ahead.
Checking Your Brakes for Problems
Check Visually
Regularly performing a visual inspection of the brake discs and pads is paramount for keeping them running at their peak performance. By checking for any signs of deterioration or damage, you can easily recognize if maintenance needs to be done on your brakes.
Test Pedal Pressure
If pushing down on the brake pedal produces a spongy sensation, then it's high time to bring your brakes in for some professional inspection.
Listen to Strange Sounds
If you hear a hideous, ear-piercing screech from your car when braking, then it is absolutely critical to get your brakes inspected swiftly.
Feel How Your Vehicle Drives
Don't delay getting your car checked out – address any potential issues immediately! If you notice that the steering wheel is shaking or your vehicle isn't driving straight, it's time for a brake inspection.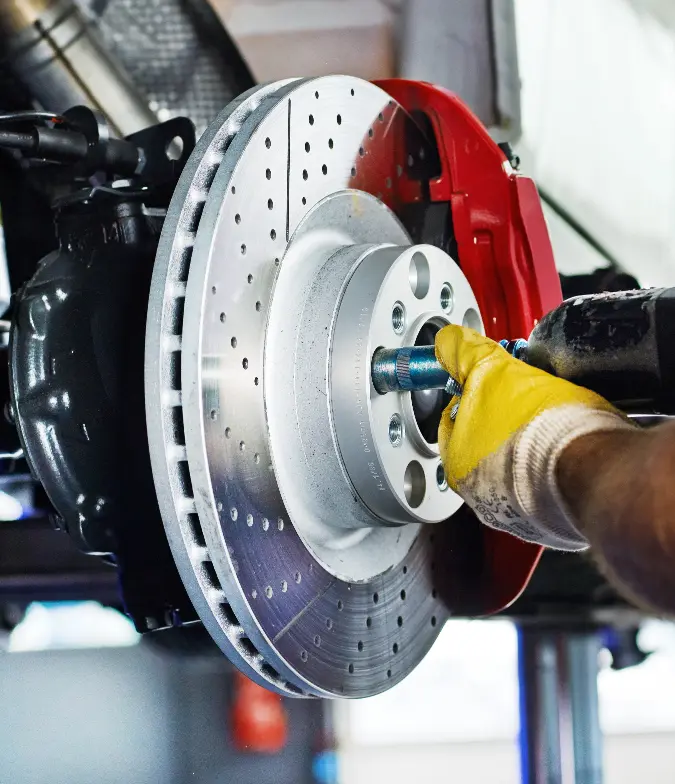 Come to Master AutoTech Ogden Downtown
To ensure the safety of both yourself and other drivers, make sure your brakes are in top-notch condition. If you're looking for prompt, reliable service – from worn brake replacement to regular check-ups – Master AutoTech Ogden Downtown is definitely worth a visit. Our team will swiftly take care of all your needs so that you can drive Utah roads with confidence.
2003 Washington Blvd Ogden, UT 84401