Auto AC Repair in Downtown Ogden, Utah
Master AutoTech Ogden Downtown offers car air conditioning repair services to ensure that your vehicle's air conditioning system remains fully operational. We understand the importance of having a functional air conditioning system while driving, and our services provide you with a cool and comfortable ride throughout your journey.
Our technicians in Utah are highly skilled and dedicated to promptly identifying and fixing vehicle air conditioning problems.
AC Repair Services Offered
Diagnosis and Troubleshooting
Our experienced technicians will inspect your car's AC system using latest diagnostic equipment. They will find the root cause of any problems and explain the necessary repairs in a clear manner.
AC Component Repairs and Replacements
Our technicians are able to fix or exchange damaged components in your AC system, like the compressor, condenser, and evaporator. Their goal is to make sure that your AC runs efficiently and effortlessly once again. We provide a guarantee that your AC will operate properly following our restoration service.
AC System Recharge and Refrigerant Services
If your AC system is not providing cool air, it might be due to low refrigerant levels or leaks. Our technicians can recharge your AC system by adding the required amount of refrigerant and fix any leaks to make it work better.
Electrical System Repairs
Our skilled technicians can identify and fix electrical issues that may affect your AC's performance. This could include repairing faulty switches, relays, or wiring to ensure that your AC operates reliably. It's important to keep in mind that electrical problems can cause problems with your AC's operation.
Signs of AC Problems
To quickly address issues with your AC system, it's important to be able to recognize signs of malfunction. Some common indications of AC problems include:
Inadequate cooling
Weak airflow
Strange odors
Unusual noises
Excessive condensation
If you notice any of these signs, Master AutoTech Ogden Downtown can help you by diagnosing and repairing your vehicle.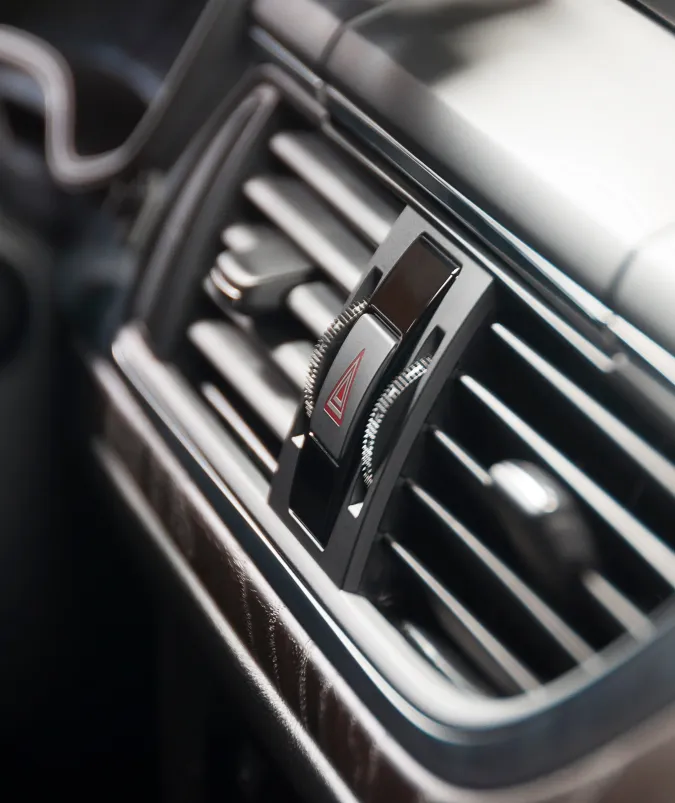 Components of an Auto AC Unit
Compressor
The compressor is the primary component of the cooling system. Its function is to pressurize and circulate the refrigerant while it's in its gaseous state. The serpentine belt powers the compressor.
Condenser
Refrigeration involves compressing a refrigerant that is in its gaseous state and then sending it to the condenser where it transforms into a liquid state. The condenser functions like a radiator and draws out the heat from the high-pressure refrigerant, which can result in high temperatures.
Receiver-Drier
The receiver must filter the high-pressure liquid refrigerant to eliminate any debris or water that could damage the air conditioning system.
Thermal Expansion Valve OR Orifice Tube
Most cars have similar A/C systems, but they use different methods, such as an orifice tube or a thermal expansion valve, to manage the refrigerant flow and release pressure, which causes the refrigerant to become a gas.
Evaporator
The evaporator helps in rapidly cooling the air by expanding liquid refrigerant. It has a radiator-like appearance with fins and pipes and is typically situated behind the dashboard. To transport the chilled air into the cabin of your vehicle, an air blower fan is utilized.
Why Bring Your Vehicle's AC to Master AutoTech Ogden Downtown?
Expert Technicians
Our skilled and experienced AC repair specialists keep themselves updated with the latest AC models and technologies to deliver reliable and efficient repair services.
Quality Parts and Materials
We always prioritize using high-quality components for any necessary repairs or replacements in your AC system. These components can be either original equipment manufacturer (OEM) parts or equivalent alternatives. Our goal is to improve the longevity and performance of your AC system by using top-notch refrigerants and accessories.
Modern Diagnostic Tools and Equipment
We have advanced diagnostic tools and specialized equipment at our facilities to maintain and troubleshoot AC systems, which helps us provide high-quality service. With the help of these resources, our skilled technicians can identify any issues accurately and carry out effective repairs.
Hear from Our Customers
Please make sure to go through the testimonials provided by our satisfied customers. They showcase how our company's exceptional services are reflected in their feedback and prove the worth we provide to our clients.
"I manage the 4WP in Ogden and we use this Master Muffler for all of our referrals. I recently had them put a performance muffler on an old SUV that I am restoring and they nailed it. We consulted and went with a plan that worked and I am very happy with the results. Will most definitely use them again."
"These guys really helped me out. Went in for a catalytic converter replacement, which isn't cheap these days.  Gave me a bid, and actually came back after starting the work to tell me they could save me a bit of money with a different cat and a bit of welding. The mechanics in the shop are decent guys. Definitely give them a go."
"Awesome place to get a oil change and emissions and your decals for your car in and out within 30 minutes. The men there are so polite and respectful and great customer service. Will always recommend and go there for my truck needs thanks you guys for such a great experience."
"These guys were quick. Did a great job. And friendly."

Stop by Master AutoTech Ogden Downtown Today
For the best auto AC repair, select Master AutoTech Ogden Downtown. Our expert technicians use premium quality parts and advanced facilities to make sure your AC system performs at its best. We provide our services to drivers in Utah.
Contact Master AutoTech today for excellent auto AC repair services that exceed your expectations. We are committed to making your driving experience comfortable and enjoyable.
2003 Washington Blvd, Ogden, UT 84401