Expert Transmission Services in Clearfield, Utah
At Master AutoTech Clearfield, we specialize in delivering outstanding transmission services to ensure the smooth operation of your vehicle's transmission system. Understanding the critical role of a properly functioning transmission, our team of highly skilled technicians is committed to providing comprehensive services that enhance performance and reliability.
Transmission Services Offered
Transmission Repairs
Our highly skilled technicians utilize advanced diagnostic tools to accurately identify and promptly resolve transmission problems.
We provide comprehensive transmission repair services, including repairing or replacing damaged components, conducting fluid flushes, and replacing filters.
Transmission Rebuilds
For transmissions requiring extensive restoration, our specialized team excels in professional transmission rebuilds. Through meticulous inspections and disassembly, we identify worn-out or damaged parts.
Utilizing high-quality components, we meticulously rebuild the transmission to its original specifications, ensuring optimal performance through precise reassembly and rigorous testing.
Transmission Maintenance
Regular maintenance is vital to the longevity of your transmission. At Master AutoTech Clearfield, we offer a range of maintenance services, including inspections, adjustments, fluid replacements, and filter replacements.
Our skilled technicians will ensure smooth shifting and proactively address potential issues, safeguarding against costly repairs in the future.
Signs of Transmission Problems
Being able to recognize common signs of transmission issues empowers you to take swift action to address problems and prevent further damage.
Look out for these typical indicators of a malfunctioning transmission:
Rough or unsmooth shifting
Delayed engagement
Slipping gears
Fluid leaks
Strange noises
If you observe any of these signs related to transmission problems, it is crucial to seek professional assistance promptly. Our skilled technicians at Master AutoTech Clearfield can efficiently diagnose and resolve these issues.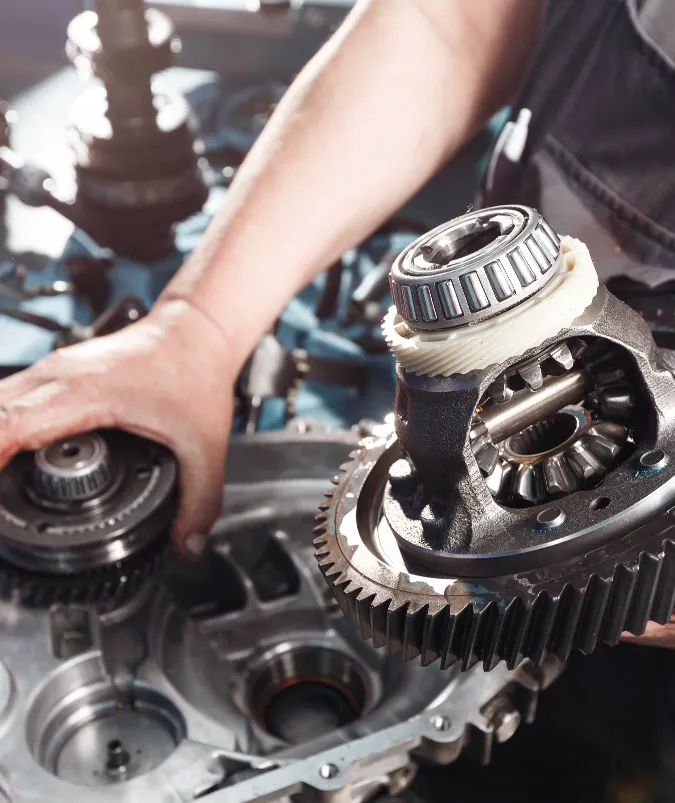 Benefits of Choosing Master AutoTech
Expertise and Experience
Our technicians possess vast knowledge and experience working with various transmission systems. They continually stay updated with the latest advancements in the automotive industry to provide exceptional service.
Quality Parts and Materials
When repairing or rebuilding transmissions, we prioritize the use of premium-quality parts. Additionally, we source top-grade fluids and filters specifically designed for transmissions, ensuring optimal performance and durability.
State-of-the-Art Facilities and Equipment
Equipped with state-of-the-art diagnostic tools and modern service bays, our facilities are designed to handle various vehicle types and transmissions. By harnessing advanced technology, we deliver efficient and reliable transmission services.
Hear from Our Customers
Please read through the testimonials from our satisfied customers to see how our excellence is reflected in their feedback. Their comments demonstrate the value we provide to our clients.
"Tage gave me a quote to replace part of my exhaust system. He called me after the install because we didn't touch base after the work. He wanted to make sure I was completely satisfied with the service. I love that kind of service. Highly recommend THIS MM."
"Ownership, management and staff at this location are all phenomenal! I get all my work done here and they do a fantastic job, out of all the Master Muffler locations in northern Utah this one is by far the best there is. I highly recommend you use these guys for all your needs! I'll personally will never go anywhere else! Amazing!"
"Got me right in, did a great job. All welds are clean and look nice. I will definitely be back soon to do more exhaust work."
"I have had every one of my trucks that are in my fleet serviced here and have exhaust on them. This place is amazing"
"I needed to get my oil changed and so I brought my car in for that. The folks at Master Muffler did a once-over and found a couple more issues which they were able to get fixed and taken care of. They were incredibly professional and affordable. They care about the needs of their customers, which isn't always easy to find these days. This is easily the best shop I've taken my car into and I will be making this my regular spot. Consider choosing Master Muffler for your needs!"

Visit Master AutoTech Clearfield Today!
When it comes to transmission services, Master AutoTech Clearfield is your trusted partner for outstanding solutions. Our top-notch auto repair services are available for vehicles in Clearfield and the surrounding areas of Utah. With our unwavering focus on quality, state-of-the-art facilities, and unmatched expertise, we guarantee optimal transmission performance.
Contact us today to experience reliable and highly effective transmission solutions that exceed your expectations.
239 E 200 S, Clearfield, UT 84015