Your car's brakes are critical for your safety, so it is essential to regularly and proactively inspect brake components. By routinely examining these parts before they completely break down, you can safeguard yourself from hazardous situations.
Clearfield Automotive Brake Repair
Is your brake pedal feeling spongy or low? Are there strange squeaking or grinding noises when you press the brakes? If so, it's time to take your car to Master AutoTech Clearfield. Our experienced technicians can inspect your entire braking system and repair any faulty components for reliable performance. Don't wait – protect yourself and those around you with dependable service from Master AutoTech Clearfield!
If you're considering replacing your brake pads or rotors, let Master AutoTech Clearfield's expert mechanics assist you in making the best choice with a free assessment. Our technicians have extensive experience fixing and replacing both drum and disc brakes for our Utah customers- whether they face freezing temperatures or scorching desert heat! Put your trust in us today; don't delay any longer when it comes to all of your automotive brake repair needs.
Get Ready to Stop with a Trusted Brake System – Trust the Experts!
Don't wait any longer to get your brake repairs taken care of! When you trust us with all of your braking needs, we promise fast and safe service. Whether it's squealing brakes that need addressing or just needing a tune-up – our team will have you back driving in no time at all.
At Master AutoTech Clearfield, we are the experts to rely on when it comes to brake maintenance. Whether you need something basic or a task more difficult, our team of certified technicians has the skills and knowledge required for any job related to your vehicle's braking system. Trust us for lasting results that you can count on time after time!
Drum Brakes
The venerable and widely used drum brakes operate by employing a wheel cylinder to press against the inside of a revolving drum, thereby bringing your vehicle to a safe stop.
Disc Brakes
For the best braking performance, disc brakes are the go-to choice. With disc brakes, calipers pressurize pads that squeeze against rotors to provide an effective way to slow down or even stop your wheels from spinning.
ABS
The Anti-lock Braking System, or ABS for short, is a life-saving feature found in many modern automobiles. This system helps to ensure that your wheels don't lock up when you are braking unexpectedly or with more force than usual. With this extra layer of security while driving, have greater peace of mind knowing that the ABS technology has got your back!
ESC
The marvels of ESC (Electronic Stability Control) make driving a safer and more secure experience. This technology enables your vehicle to detect if you are beginning to skid or slide when going too quickly, allowing for automatic adjustments that help drivers stay in control on the roads.
Checking Your Brakes for Problems
Check Visually
It's critical to visually inspect the brake discs and pads in order to guarantee your brakes are functioning optimally. Check for any signs of damage or wear that could indicate a need for maintenance.
Test Pedal Pressure
If your brakes feel soft and squishy when you press the pedal, it's time to give them a more thorough examination.
Listen to Strange Sounds
If you detect a jarring, high-pitched screech coming from your car that is too loud to ignore – it may be time for an evaluation of your brakes.
Feel How Your Vehicle Drives
If you detect your car pulling to one side when braking or the steering wheel shaking abnormally, it's time for a brake inspection. Don't put off getting essential maintenance – take care of your vehicle and keep yourself safe!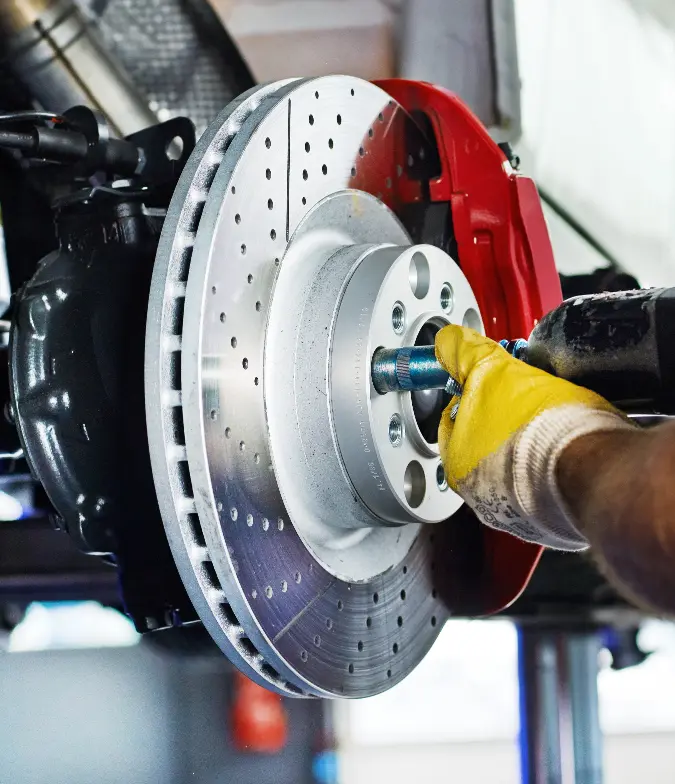 Come to Master AutoTech Clearfield
Safeguard your well-being and the safety of others by being sure that your brakes are in good working condition. If you require brake maintenance, Master AutoTech Clearfield is here to serve Utah drivers with trustworthy service – from worn-out brakes to routine tune-ups! Drive without worry now knowing our team has got you covered!
239 E 200 S Clearfield, UT 84015