Auto AC Repair in Clearfield, Utah
At Master AutoTech Clearfield, we offer auto air conditioner repair services for your vehicle. We know how important it is to have a working air conditioning system while driving. We guarantee that our services will keep you cool and comfortable during your travels.
Our technicians in Utah are highly skilled and dedicated to promptly diagnosing and fixing AC problems in vehicles.
AC Repair Services Offered
Diagnosis and Troubleshooting
We conduct a thorough inspection of your car's AC system to identify the root cause of any problems. Our expert technicians use advanced diagnostic equipment to accurately detect issues and provide you with a clear explanation of the necessary repairs.
AC Component Repairs and Replacements
We can fix any broken parts in your AC system like the compressor, condenser, and evaporator. Our technicians will ensure that your AC system runs smoothly by repairing or replacing faulty parts. We guarantee that your AC will operate efficiently after we restore its proper functionality.
AC System Recharge and Refrigerant Services
If your AC system is blowing warm air and not functioning properly, it could be due to low refrigerant levels or leaks. To fix this problem, our technicians will recharge your AC system by adding the correct amount of refrigerant and locating and repairing any leaks to restore the cooling efficiency of your AC system.
Electrical System Repairs
Our technicians can identify and resolve electrical problems that may affect the performance of your AC system. They can fix faulty switches, relays, or wiring, and ensure that your AC operates reliably. It's important to note that electrical issues can impact the functionality of your AC.
Signs of AC Problems
To quickly fix any issues with your AC system, it's crucial to know how to identify signs of malfunction. Common indications of AC problems include:
Inadequate cooling
Weak airflow
Strange odors
Unusual noises
Excessive condensation
If you notice any of these signs, you can bring your vehicle to Master AutoTech Clearfield for professional diagnosis and repairs.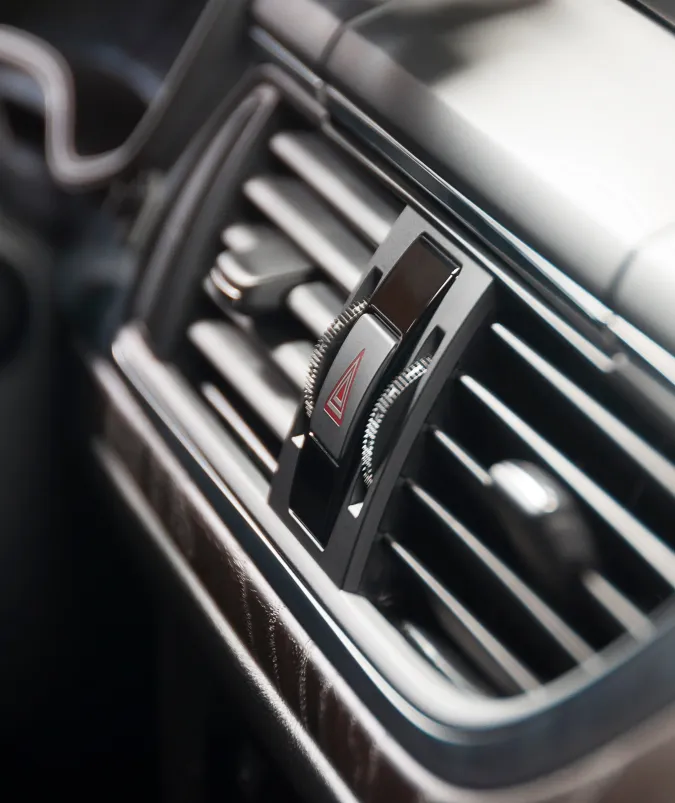 Components of an Auto AC Unit
Compressor
The compressor's job is to pressurize and circulate the refrigerant in its gaseous state through the cooling system. It is powered by the serpentine belt and is the main component of the cooling system.
Condenser
The refrigerant in gas form is compressed and then passed on to the condenser where it condenses into liquid form. The condenser works like a radiator to remove heat from the high-pressure refrigerant, which can cause high temperatures.
Receiver-Drier
The task of the receiver is to strain out any debris or water from the high-pressure liquid refrigerant to prevent damage to the air conditioning system.
Thermal Expansion Valve OR Orifice Tube
Most cars have similar A/C systems, but they may use either an orifice tube or a thermal expansion valve to regulate the flow of refrigerant and relieve pressure, enabling the refrigerant to expand into a gas.
Evaporator
The function of the evaporator is to rapidly cool air by expanding the liquid refrigerant. It is typically located behind the dashboard and has a similar appearance to a radiator with pipes and fins. An air blower fan then circulates the air over the evaporator and into your vehicle's cabin.
Why Bring Your Vehicle's AC to Master AutoTech Clearfield?
Expert Technicians
Our team of specialists in AC repairs is highly skilled and experienced. They keep themselves up-to-date with the latest models and technologies of AC systems to deliver dependable and efficient repairs.
Quality Parts and Materials
Our main focus is to ensure that we use either original equipment manufacturer (OEM) components or equally high-quality alternatives for any necessary repairs or replacements. Our objective is to optimize the efficiency and durability of your AC system by using top-of-the-line refrigerants and accessories.
Modern Diagnostic Tools and Equipment
We have top-notch facilities that are equipped with advanced diagnostic tools and specialized equipment for maintaining and troubleshooting AC systems. Our highly skilled technicians utilize these resources to accurately diagnose any problems and perform effective repairs.
Hear from Our Customers
Please read through the testimonials from our satisfied customers to see how our excellence is reflected in their feedback. Their comments demonstrate the value we provide to our clients.
"Tage gave me a quote to replace part of my exhaust system. He called me after the install because we didn't touch base after the work. He wanted to make sure I was completely satisfied with the service. I love that kind of service. Highly recommend THIS MM."
"Ownership, management and staff at this location are all phenomenal! I get all my work done here and they do a fantastic job, out of all the Master Muffler locations in northern Utah this one is by far the best there is. I highly recommend you use these guys for all your needs! I'll personally will never go anywhere else! Amazing!"
"Got me right in, did a great job. All welds are clean and look nice. I will definitely be back soon to do more exhaust work."
"I have had every one of my trucks that are in my fleet serviced here and have exhaust on them. This place is amazing"
"I needed to get my oil changed and so I brought my car in for that. The folks at Master Muffler did a once-over and found a couple more issues which they were able to get fixed and taken care of. They were incredibly professional and affordable. They care about the needs of their customers, which isn't always easy to find these days. This is easily the best shop I've taken my car into and I will be making this my regular spot. Consider choosing Master Muffler for your needs!"

Stop by Master AutoTech Clearfield Today
For Auto AC repair, choose Master AutoTech Clearfield as we have highly skilled technicians, top-notch parts, and state-of-the-art facilities. With our services, Utah drivers can ensure that their AC system will function optimally.
Contact Master AutoTech today for superior auto AC repair services that will meet or exceed your expectations. Our goal is to provide you with comfort and satisfaction while driving.
239 E 200 S, Clearfield, UT 84015