Expert Transmission Services in Brigham City, Utah
At Master AutoTech Brigham City, our team specializes in providing expert transmission services to ensure your vehicle's transmission system functions flawlessly. We recognize the importance of a properly working transmission and our highly skilled technicians are dedicated to delivering comprehensive services that boost performance and reliability.
Transmission Services Offered
Transmission Repairs
Our highly skilled technicians utilize advanced diagnostic tools to promptly diagnose and resolve transmission problems. We provide comprehensive transmission repair services, which involve repairing or replacing damaged components, performing fluid flushes, and replacing filters.
Transmission Rebuilds
Our team specializes in professional transmission rebuilds for transmissions requiring extensive restoration. We meticulously inspect and disassemble the transmission to identify any damaged or worn-out parts. Using high-quality components, we rebuild the transmission to its original specifications, ensuring optimal performance through careful reassembly and rigorous testing.
Transmission Maintenance
Regular maintenance is crucial for prolonging the lifespan of your transmission. At Master AutoTech Brigham City, we offer a variety of maintenance services for transmissions, including inspections, adjustments, fluid and filter replacements. Our technicians ensure smooth shifting and proactively address any potential issues to prevent more costly repairs in the future.
Signs of Transmission Problems
By recognizing common signs of transmission problems, you can promptly address issues and prevent further damage.
The following are some typical signs indicating a transmission that is not functioning properly:
Rough or unsmooth shifting
Delayed engagement
Slipping gears
Fluid leaks
Strange noises
If you notice any of these signs related to transmission problems, seeking professional help is crucial. Our skilled technicians at Master AutoTech Brigham City can efficiently identify and address these problems.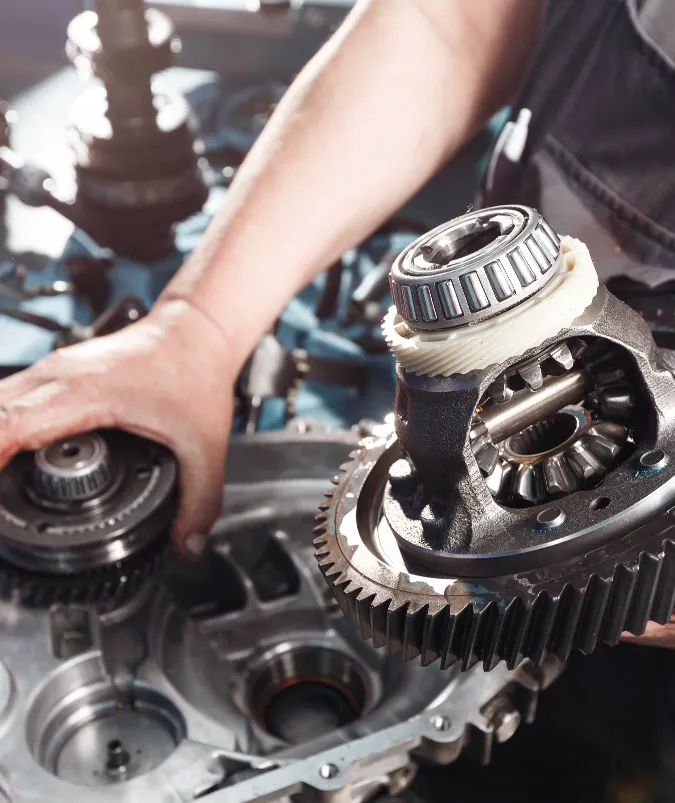 Benefits of Choosing Master AutoTech
Expertise and Experience
Our technicians possess extensive knowledge and skills working with various transmission systems and stay up-to-date with the latest developments in the automotive industry to provide exceptional service.
Quality Parts and Materials
When repairing or rebuilding transmissions, we make sure to use OEM or equivalent parts. Additionally, we source top-quality fluids and filters specifically designed for transmissions to ensure optimal performance and durability.
State-of-the-Art Facilities and Equipment
Equipped with advanced diagnostic tools and service bays, our modern facilities can handle various vehicle types and transmissions. By utilizing state-of-the-art technology, we provide efficient and dependable transmission services.
Hear from Our Customers
Our excellence is reflected in the testimonials of our satisfied customers. Please take a look at what our valued clients have to say.
"My car broke down during a trip to Brigham City from Salt Lake City. Master Muffler took care of me going well above and beyond. The price they quoted was just and accurate. I was happy and I believe they were honest and good with their treatment of me and the issue. I've used this Master Muffler in the past and have always felt good about the interaction. I'd recommend them as a mechanic to go to."
"They always are courteous and the work I want done is all that is done. They never try to sell you something you don't need. Their prices are good and I trust what they say is what they will do. If anyone in Brigham needs work done I would not hesitate to recommend Master muffler."
"I've worked with Jeremy and Jared over there and both are great people who care about their customers.  I definitely have had my share of bad experiences with auto mechanics but not here.  I have found them honest in all my interactions to date (several) and quite reasonably priced based upon my experience.  They do way more than mufflers and brakes also so don't let the name hold you back.  In fact, I have only seen them for other repairs and maintenance.  Will go back!"
"Master Muffler is great.  Had some issues with my car and they went above and beyond to take care of it.  Jeremy and Jared really are great to work with.  Would highly recommend."
"Jared is the real MVP. Everyone was so nice here and they got us  in after breaking down on the highway. Highly recommend this amazing service. Now we can safely get back home."

Visit Master AutoTech Brigham City Today!
When it comes to transmission services, choose Master AutoTech Brigham City for reliable and top-notch solutions. Our exceptional auto repair services are available for vehicles in Brigham City and surrounding areas. With quality parts, state-of-the-art facilities, and our expertise, we ensure optimal performance for your transmission.
Contact us today to experience dependable and highly effective transmission solutions that exceed your expectations.
21 W 700 S, Brigham City, UT 84302