Auto AC Repair in Brigham City, Utah
Master AutoTech Brigham City provides professional auto air conditioner repair services as we understand the significance of a working air conditioning system in your vehicle. With our services, you can be assured of staying cool and comfortable while on the road.
Our skilled technicians in Utah are committed to quickly and efficiently diagnosing and resolving AC issues for vehicles.
AC Repair Services Offered
Diagnosis and Troubleshooting
We examine your car's AC system thoroughly to determine the underlying cause of any issues. Our skilled technicians utilize state-of-the-art diagnostic equipment to precisely identify problems and offer you a clear explanation of the required repairs.
AC Component Repairs and Replacements
Our technicians can repair or replace any malfunctioning components in your AC system, including the compressor, condenser, and evaporator. We guarantee that your AC system will operate efficiently by fixing defective parts and restoring their proper functionality.
AC System Recharge and Refrigerant Services
If your AC system is not functioning properly and blowing warm air, it could be a result of low refrigerant levels or leaks. To resolve this issue, our technicians perform AC system recharges by adding the appropriate amount of refrigerant and identifying and repairing any leaks to restore your AC system's cooling efficiency.
Electrical System Repairs
Our technicians are skilled at identifying and fixing electrical problems that can impact your AC system's performance. We can repair or replace faulty switches, relays, or wiring to ensure that your AC operates dependably. Keep in mind that electrical issues may affect your AC's functionality.
Signs of AC Problems
It's important to be able to identify when your AC system is malfunctioning so that you can fix any issues quickly. Common signs of AC problems include:
Inadequate cooling
Weak airflow
Strange odors
Unusual noises
Excessive condensation
If you observe any of these indications, feel free to take your vehicle to Master AutoTech Brigham City for expert diagnosis and repairs.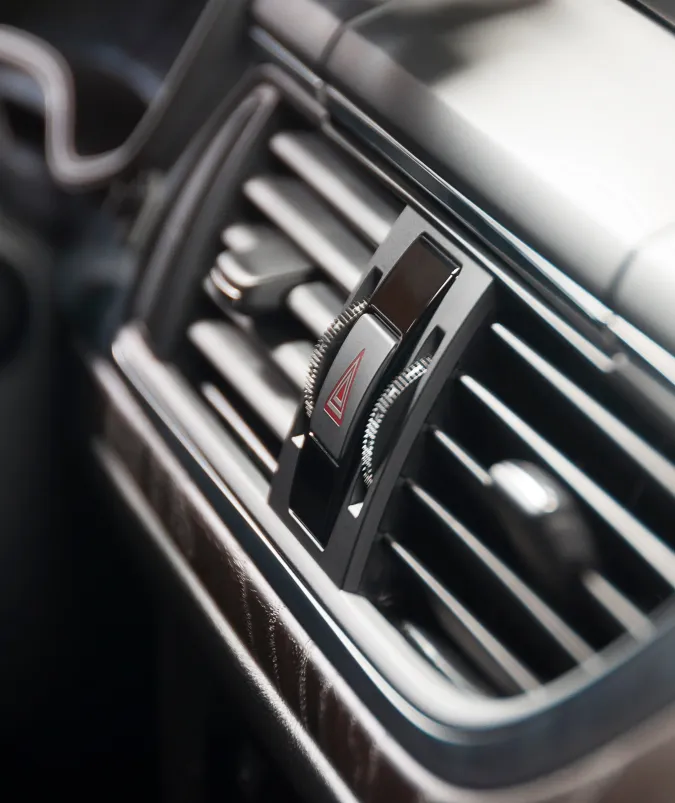 Components of an Auto AC Unit
Compressor
The function of the compressor is to take the refrigerant in its gaseous state, pressurize it, and circulate it through the cooling system. As the central component of the cooling system, the compressor is powered by the serpentine belt.
Condenser
The gaseous refrigerant goes from the compressor to the condenser where it changes into liquid form. The condenser has a radiator-like appearance and removes heat from the high-pressure refrigerant, which can result in high temperatures being produced.
Receiver-Drier
The receiver's task is to filter the refrigerant, which is now in liquid form and under high pressure, in order to eliminate any debris or water present. These impurities have the potential to harm the air conditioning system.
Thermal Expansion Valve OR Orifice Tube
Although most cars have similar A/C systems, one potential difference is the use of an orifice tube or a thermal expansion valve. Both of these serve the same purpose, which is to regulate the flow of refrigerant and relieve pressure, allowing the refrigerant to expand into gas form.
Evaporator
The purpose of the evaporator is to cool the air quickly by causing the liquid refrigerant to expand rapidly. It is usually positioned behind your dashboard and resembles a radiator with its fins and pipes. A blower fan blows air over the evaporator and into your car's cabin.
Why Bring Your Vehicle's AC to Master AutoTech Brigham City?
Expert Technicians
Our team of AC repair specialists are highly skilled and experienced. They continuously update themselves with the latest AC system models and technologies to provide reliable and efficient AC repairs.
Quality Parts and Materials
We make it a priority to use original equipment manufacturer (OEM) components or parts that are just as good for any repairs or replacements needed. Our goal is to provide long-lasting and high-performing AC systems by utilizing top-quality refrigerants and accessories.
Modern Diagnostic Tools and Equipment
Our technicians have access to advanced diagnostic tools and specialized equipment for AC system maintenance and troubleshooting in our state-of-the-art facilities. As a result, they can diagnose issues accurately and provide effective repairs.
Hear from Our Customers
Our excellence is reflected in the testimonials of our satisfied customers. Please take a look at what our valued clients have to say.
"My car broke down during a trip to Brigham City from Salt Lake City. Master Muffler took care of me going well above and beyond. The price they quoted was just and accurate. I was happy and I believe they were honest and good with their treatment of me and the issue. I've used this Master Muffler in the past and have always felt good about the interaction. I'd recommend them as a mechanic to go to."
"They always are courteous and the work I want done is all that is done. They never try to sell you something you don't need. Their prices are good and I trust what they say is what they will do. If anyone in Brigham needs work done I would not hesitate to recommend Master muffler."
"I've worked with Jeremy and Jared over there and both are great people who care about their customers.  I definitely have had my share of bad experiences with auto mechanics but not here.  I have found them honest in all my interactions to date (several) and quite reasonably priced based upon my experience.  They do way more than mufflers and brakes also so don't let the name hold you back.  In fact, I have only seen them for other repairs and maintenance.  Will go back!"
"Master Muffler is great.  Had some issues with my car and they went above and beyond to take care of it.  Jeremy and Jared really are great to work with.  Would highly recommend."
"Jared is the real MVP. Everyone was so nice here and they got us  in after breaking down on the highway. Highly recommend this amazing service. Now we can safely get back home."

Stop by Master AutoTech Brigham City Today
Master AutoTech Brigham City is the best choice for Auto AC repair. Our highly skilled technicians, top-notch parts, and state-of-the-art facilities guarantee that Utah drivers will have an AC system that works optimally.
If you need high-quality auto AC repair services that meet or even exceed your expectations, get in touch with us at Master AutoTech today. We're dedicated to ensuring your comfort and contentment while you're on the road.
21 W 700 S, Brigham City, UT 84302