The Muffler Experts in
Bountiful, Utah
At Master AutoTech Bountiful, we specialize in mufflers and exhaust systems due to our expertise in that area. Our skilled technicians are available for simple maintenance, upgrades, or complete repairs. It is essential to have a functional car exhaust system to ensure safety, environmental protection, and fuel efficiency. If you suspect that you need a muffler or exhaust system inspection, come to our experts at Master AutoTech immediately. We are the professionals you can trust with your auto care needs.
What Is a Muffler?
Your vehicle's exhaust system contains a muffler, which is responsible for reducing the noise produced by the engine. The muffler consists of steel pipes with tuned chambers, which reflect and cancel out a large portion of the engine's noise.
Diagnosing Muffler Problems
It's crucial to know the warning signs of issues in mufflers and exhaust systems as various problems can occur. Due to Utah's unpredictable weather, which fluctuates from hot and dry to snowy and cold, car mufflers and exhaust systems in the state are more susceptible to damage. Additionally, harmful salts are often applied on the roads during snowy days, adding to the risk.
Are you unsure if your car's muffler or exhaust system needs maintenance? When the exhaust system is not working properly, it can cause a range of warnings from mild to severe. Pinging or knocking sounds can be irritating and may turn into hazardous exhaust leaks if not fixed. Other signs to look out for include loud rumbling sounds, rough idling sounds, poor vehicle performance at startup, unusual vibration, and reduced fuel efficiency.
Why Use a High-Performance Muffler?
Not only do high-performance mufflers reduce the amount of noise your car makes, but they also help increase the efficiency, power output, and overall performance of your engine. High-performance mufflers reduce the amount of back pressure present in the exhaust system, allowing the engine to work more efficiently. If you really want to give your vehicle a jump-start, you should choose a muffler pipe that is larger in diameter and has better air intake, like a "cold air intake" style.
What Types of Mufflers Are There?
There are many mufflers available, but it's important to choose the right one for your car. Some examples of mufflers include:
Universal mufflers
If you want to improve your vehicle's performance without compromising on sound quality and fuel efficiency, these would be an excellent option.
High-flow mufflers
These mufflers are ideal for boosting the power of your car. They offer improved airflow and high-quality sound, prioritizing performance over silence.
Racing mufflers
These are designed to improve your race car's performance by decreasing back pressure and increasing horsepower.
Diesel mufflers
These products are meant for vehicles that run on diesel fuel, and they aim to decrease emissions, enhance fuel efficiency, and create a more peaceful driving experience.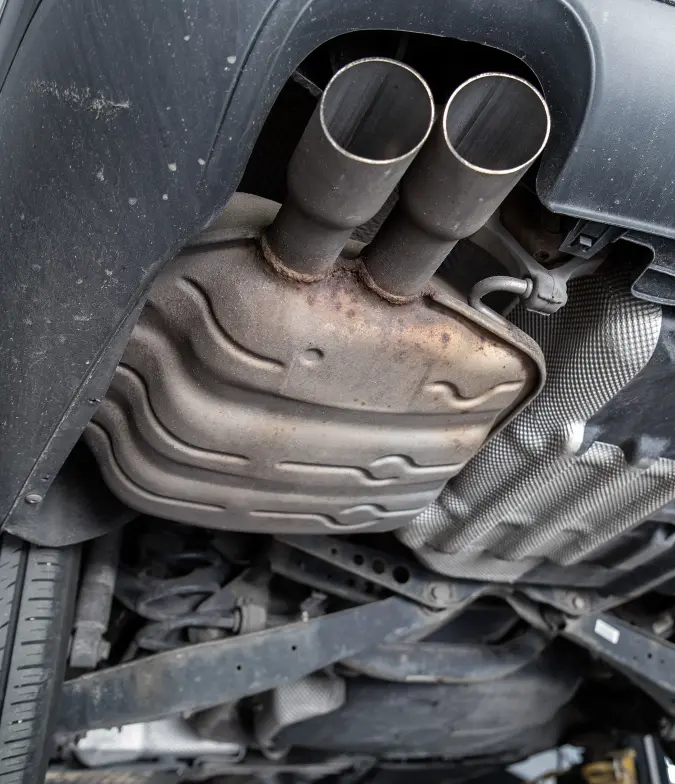 Our mufflers at Master AutoTech are customized and branded for optimal performance and efficiency. Our skilled technicians use advanced engineering principles and the latest technology to design each muffler with precision and accuracy.
Our mufflers are made with top-quality materials that can endure high temperatures, pressure, and weather conditions. This guarantees that your vehicle will run smoothly and efficiently for many years. Additionally, our branded mufflers offer a unique appearance that is not available with most stock mufflers.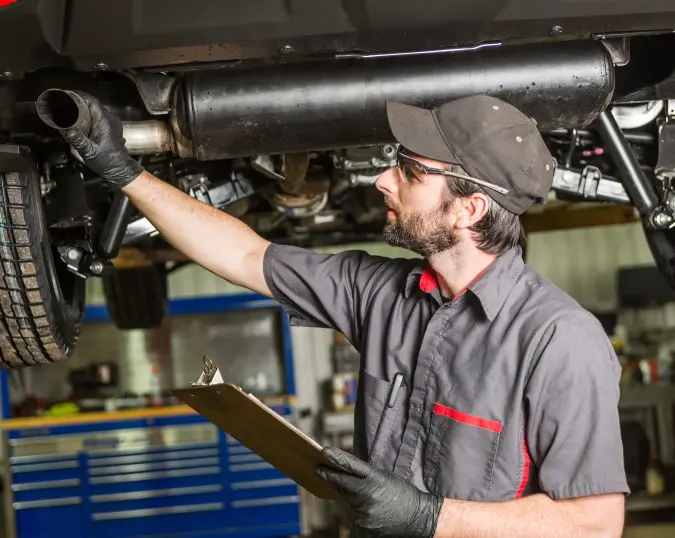 How Do I Know Which Type of Muffler Will Be Best for Me?
Choosing a muffler can be confusing and overwhelming for many people who don't have much knowledge about them. Fortunately, we're here to help. At Master AutoTech, our highly trained technicians have the expertise to assist you with any questions or concerns you may have, especially given the various climates and conditions in Utah. We want to assure our customers that we're available and ready to help. Whether it's auto repair in Utah or Idaho, count on us to take care of you.

Visit Master AutoTech Bountiful Today
If you need muffler repair or installation services, Master AutoTech Bountiful is the place to go. Our team of experts will assist you in selecting the appropriate muffler for your car and answer any queries you may have. Visit us in person or contact us to begin right away!
We will work together to make sure that your car's muffler is performing at its best. To know more about our services and get started, please contact us now. We are excited to hear from you!
1025 N Hwy 89, North Salt Lake, UT 84054