Auto AC Repair in Bountiful, Utah
At Master AutoTech Bountiful, we understand the importance of a functioning air conditioning system in your vehicle. We specialize in providing professional auto air conditioner repair services to ensure you stay cool and comfortable on the road.
Our team of skilled technicians is dedicated to diagnosing and resolving AC issues efficiently and effectively for Utah vehicles.
AC Repair Services Offered
Diagnosis and Troubleshooting
Our expert technicians conduct a comprehensive inspection of your vehicle's AC system to identify the root cause of any problems. Using advanced diagnostic tools, we pinpoint issues accurately and provide you with a clear understanding of the necessary repairs.
AC Component Repairs and Replacements
Whether your AC compressor, condenser, evaporator, or other components are malfunctioning, our skilled technicians are equipped to repair or replace them as needed. We ensure that your AC system operates at optimal levels by addressing faulty parts and restoring proper functionality.
AC System Recharge and Refrigerant Services
If your AC system is blowing warm air or not cooling as it should, it may be due to low refrigerant levels or leaks. Our technicians perform AC system recharges, ensuring the correct amount of refrigerant is added. We also check for leaks and provide necessary repairs to restore your AC system's cooling efficiency.
Electrical System Repairs
Electrical issues can affect the performance of your AC system. Our technicians are proficient in diagnosing and resolving electrical problems related to the AC system. We repair or replace faulty switches, relays, or wiring to ensure your AC functions reliably.
Signs of AC Problems
Recognizing the signs of AC system malfunction is crucial in addressing issues promptly. Common symptoms include the following:
Inadequate cooling
Weak airflow
Strange odors
Unusual noises
Excessive condensation
If you notice any of these signs, don't hesitate to bring your vehicle to Master AutoTech Bountiful for professional diagnosis and repair.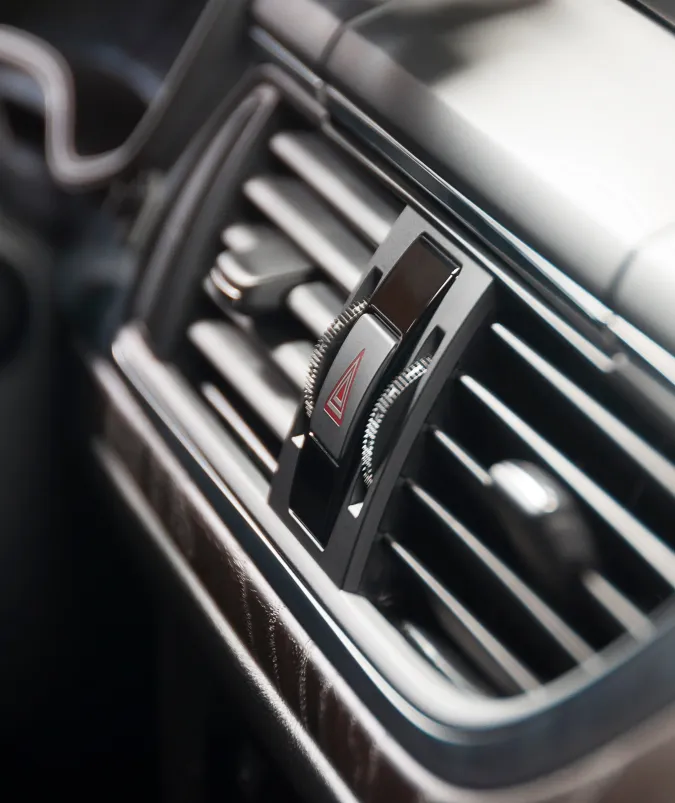 Components of an Auto AC Unit
Compressor
The compressor takes the refrigerant when it's in a gas form and pressurizes it, and pumps it through the system. Powered by the serpentine belt, the compressor is the core component of any cooling system.
Condenser
From the compressor, gaseous refrigerant moves to the condenser, which transforms it from gas to liquid form. The condenser looks very much like a radiator and can produce a lot of heat as it removes it from the high-pressure refrigerant.
Receiver-Drier
The receiver filters the now-liquid, highly-pressurized refrigerant in order to remove debris or water. These extra elements can damage the air conditioning system.
Thermal Expansion Valve OR Orifice Tube
Most cars' A/C systems are similar, however the one place that they might differ is whether they use an orifice tube or a thermal expansion valve. In either case, both of these devices have the same job: to monitor the flow of refrigerant and relieve pressure so that the refrigerant can expand into gas form.
Evaporator
The evaporator is there for the beautiful moment when the liquid refrigerant rapidly expands, quickly cooling the air. Usually, the evaporator is located right behind your dash, equipped with fins and pipes that also make it look a bit radiator-ish. A blower fan pushes air over the evaporator and straight into your car's cabin.
Why Bring Your Vehicle's AC to Master AutoTech Bountiful?
Expert Technicians
Our team consists of skilled and experienced AC repair specialists who stay updated with the latest AC system models and technologies. With their expertise, they deliver reliable and efficient AC repairs.
Quality Parts and Materials
We prioritize the use of OEM or equivalent components for repairs and replacements. By using top-grade refrigerants and AC system accessories, we ensure durability and optimal performance.
Modern Diagnostic Tools and Equipment
Our state-of-the-art facilities are equipped with advanced diagnostic tools and specialized equipment for AC system maintenance and troubleshooting. This enables our technicians to accurately diagnose issues and provide effective repairs.
Hear from Our Customers
Our satisfied customers speak to our commitment to excellence. See these testimonials from our valued clients:
"Happy to give them 5 stars! Honest Guys who aren't just after a buck – If it doesn't need fixing they won't suggest it! Integrity from any service provider is worth more than perceived savings of a buck or two!"
"Tom has top qualities in service and great knowledge of cars. He helped fix my car and no bs. Top notch service from whole staff."
"Took my truck in upgraded from 2 inch exhaust to 3 inch exhaust I supplied the parts they installed and ran emissions tests and passed with no problems great guys to work with very reasonable price !! Also taking in my Subaru for a new Cadillac converter same thing I supplied parts from dealership they installed it with no problems"
"Go here you'll be happy. As a dealer I am in here a few times a week. These guys are thorough and fair. They're more than mufflers I am taking a Subaru there for a clutch. And they stand behind their work. "
"The best Muffler place in Utah! They are honest and very helpful. They'll check your vehicle first and will tell you exactly what it needs before you spend a lot of money on some other part that you don't need. Thank you Shawn M. Mileham. You Rock! Thanks for being helpful and  honest."

Stop by Master AutoTech Bountiful Today
When it comes to Auto AC repair, Master AutoTech Bountiful is your trusted partner. With our expert technicians, quality parts, and advanced facilities, we ensure Utah drivers have an AC system that operates at peak performance.
Contact us today for reliable and efficient Auto AC repair services that exceed your expectations. At Master AutoTech, we're committed to your comfort and satisfaction on the road.
1025 N Hwy 89, North Salt Lake, UT 84054